Slammers' Sunday game postponed; double-header Monday
7/27/2014, 9:39 p.m.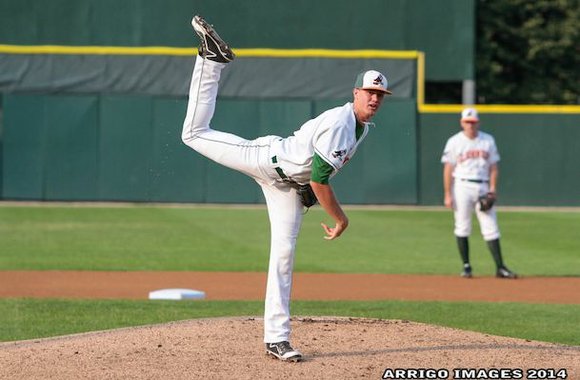 The Joliet Slammers provided this report:
The Joliet Slammers-Presented by ATI Physical Therapy-were postponed by weather in Traverse City, Mich., Sunday. There will now be a doubleheader on Monday that begins at 5pm central time. Strong thunderstorms were moving through the area and rain was falling throughout the afternoon, prompting the postponement.
The team will use this as a rare day off as their next scheduled off day is not until August 5. The Slammers trounced Windy City on Saturday 16-5. Grant DeBruin collected four hits on the day with three doubles and six RBI. He now has a commanding league-lead in hits with 87. His .366 batting average is 2nd only to Windy City's Kyle Robinson .369 average in the Frontier League statistics. DeBruin now has 19 doubles, just two behind Robinson's league leading 21. DeBruin also has a 9-game hitting streak and has now hit safely in 32 of his last 35 games.
The Slammers latest acquisitions have been working out quite well. Former Barry University second baseman Adrian English is hitting .375 in his 1st four games with the team while former U. of St. Thomas catcher JD Dorgan is hitting .368 in his 1st five contests. On the pitching side, David Kubiak, who was recently acquired from the Southern Illinois Miners in a trade, has an ERA of just .135 in his 1st five appearances.
Joliet has also made another trade this week, acquiring infielder Josh Scheffert from the Laredo Lemurs of the American Association for a player to be named later. Scheffert will not join the team until they return from Traverse City. He hit .274 with 2 homers and 14 RBI for Laredo in 45 games this season. He was a four-year regular at 3B for the U. of Nebraska and was 2nd-team All Big-Ten as a junior with a .358 batting average, 8 homers and 41 RBI. Scheffert suffered an elbow injury as a senior with the Cornhuskers.
Joliet will return for a six-game home-stand beginning Wednesday July 30th at 7:05pm. The Frontier Greys and then the Schaumburg Boomers will be the opposition in Joliet. There will be a Fireworks Friday on August 1st that will also be Princess Night at Silver Cross Field.
Slammers action this summer is broadcast live on 1340 WJOL and wjol.com. The audio/video feed of home games this season can be seen for free at independentprofessionalbaseball.com.