Slammers wallop ThunderBolts with 16-5 win
7/27/2014, 12:41 p.m.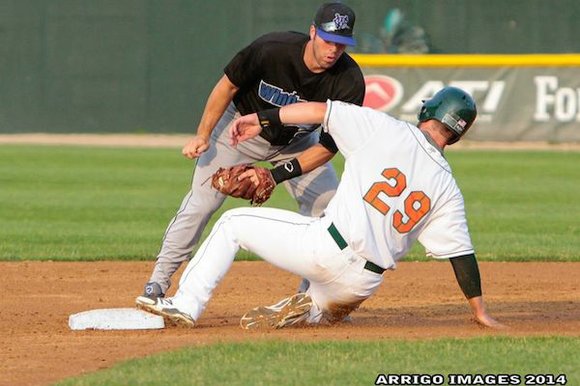 The Joliet Slammers provided this account of Saturday night's game:
The Joliet Slammers-Presented by ATI Physical Therapy-defeated Windy City with an offensive outburst 16-5 on Saturday night.
For the 6th time in a row against the Slammers, Windy City scored in the 1st inning against them. This time it was a Ryan McIntyre 2-run homer to give them an early 2-0 lead.
Joliet came back with a run of their own in the 2nd when Jose Garcia homered to left. The ball hit the top of the fence and bounced straight up. Leftfielder Kyle Robinson swatted at it but it was knocked over the wall.
The Thunderbolts added to their lead with a 2-run double in the 3rd from Ryan Soares to make it 4-1. The Slammers comeback then began.
Grant DeBruin came up with two men on base in the 4th and ripped a two-run double to make it a 4-3 game. While DeBruin was on 2nd base, pitcher Josh Spence turned to talk to DeBruin. Presumably Spence was unhappy with DeBruin relaying signs to hitters. Russell Moldenhauer then singled to tie the score 4-4.
Spence then hit the next batter, JD Dorgan, in the brim of the helmet and the benches emptied. There were several arguments between players but no fights or ejections. That altercation seemed to spur on Joliet as they then erupted offensively.
In the 6th, the Slammers knocked Spence out of the game and scored six runs. They batted around and DeBruin had another 2-run double. He now leads the league in hits and has an 8-game hitting streak. Chris Epps contributed a 2-run single, while Moldenhauer and Dorgan added RBI's as well to push the Slammers lead to 10-4. DeBruin's third 2-run double of the day in the 7th helped the score move to 13-4. Adrian English added a RBI double in the inning as well. He finished with four hits as did DeBruin and Moldenhauer.
The final two Slammers runs would score in the 9th on a Dorgan single and Garcia sacrifice fly as the game ended 16-5. Max Casper finished with three hits on the day as every Slammer reached base. Their 20 hits were a season high and their 16 runs a season high as well. The win ends a 4-game losing streak and lifts them out of last place in the division.
The Slammers will start a three-game series at Traverse City on Sunday at 4.05pm. Joliet will then return for a six-game home-stand beginning Wednesday July 30th at 7:05pm. The Frontier Greys and then the Schaumburg Boomers will be the opposition in Joliet.
There will be a Fireworks Friday on August 1st that will also be Princess Night at Silver Cross Field. Slammers action this summer is broadcast live on 1340 WJOL and wjol.com. The audio/video feed of home games this season can be seen for free at independentprofessionalbaseball.com.