JTHS' McCarthy winner of this year's Athena Award
7/29/2014, 12:09 p.m.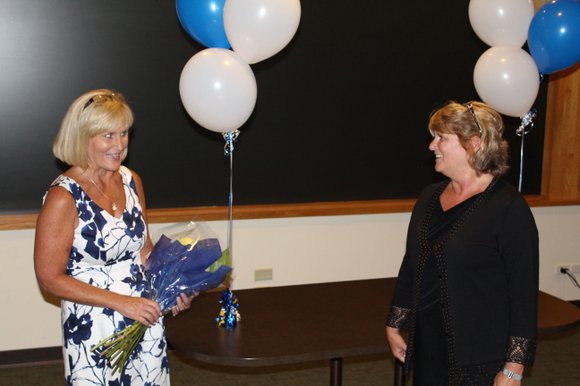 Joliet Township High School District 204 Supt. Cheryl McCarthy is the winner of the 2014 Joliet Region Chamber of Commerce and Industry's Athena Award.

The Athena Award is presented annually to an area leader who demonstrates professional excellence, community service and actively assists women in realizing their leadership potential.
McCarthy has been at Joliet Township High School for her entire career. She started at Joliet West High School in 1986 as a math teacher and in 1996 she was promoted to division chair of the Math and Sciences Department. In 2001, she served as assistant principal for support operations before becoming principal in 2002 and assistant superintendent for educational services in 2010.

She is the first female superintendent in the history of Joliet Township High School.
As superintendent, McCarthy has led the implementation of the 1:1 computing initiative, which provides netbook computers to all JTHS students. She has been instrumental in the implementation of the district's Strategic Plan since its inception.
McCarthy holds leadership roles within the Joliet Region Chamber of Commerce & Industry, Rotary Club of Joliet, United Way of Will County, Three Rivers Educational Partnership for Manufacturing and Three Rivers Educational Employment System, among others.

She is a member of the Zonta Club of Joliet, Joliet Region Interfaith Education Council; Leading Educational Alignment and Planning; Illinois Association of School Administrators; Learning Forward; National Association for Supervision and Curriculum Development; Three Rivers Education Partnership; Will County K-12 School Safety Advisory Task Force; and Chicagoland Speedway R.A.C.E. Committee.
"On behalf of the chamber, the board of directors and the Council for Working we congratulate Dr. Cheryl McCarthy on being selected as the 2014 Athena Award Recipient," said Mary Jaworski, the chamber's executive vice president.
"Dr. McCarthy is an outstanding example of a mentor and works tirelessly to promote and encourage professional growth in both and women and men. Serving as the Co-Chair of the Chamber's Education Committee, she has provided both wisdom and leadership to the committee with outstanding results."
McCarthy will be honored at the annual Athena Luncheon on Sept. 17 at the Patrick Haley Mansion.