Athena Award Recipient 2014 chosen
7/30/2014, 2:12 p.m.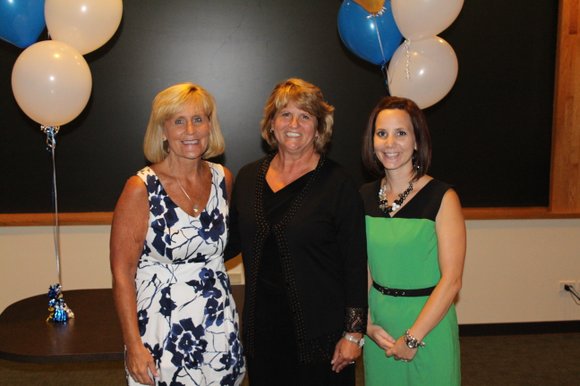 JTHS Superintendent Dr. Cheryl McCarthy learned that she is the 2014 Joliet Region Chamber of Commerce and Industry's Athena Award recipient during a surprise visit last week.
Joliet Chamber Executive Vice President Mary Jaworski presented the surprise announcement to Dr. McCarthy, who was joined by the Chamber's Director of Member Events Kelly Baltas, JTHS Board of Education members, administrators and family. The Athena Award is presented annually to an area leader who demonstrates professional excellence, community service and actively assists women in realizing their full leadership potential.
Dr. McCarthy has served Joliet Township High School throughout her entire career. She started at Joliet West High School in 1986 as a math teacher and in 1996 she was promoted to Division Chair of the Math and Sciences Department. In 2001, she served as Assistant Principal for Support Operations before becoming principal in 2002 and Assistant Superintendent for Educational Services in 2010. She is the first female superintendent in the history of Joliet Township High School.
Dr. McCarthy will be honored as the Athena Award recipient at the annual Athena Luncheon on Wednesday, September 17 at the Patrick Haley Mansion.