No easy – or cheap – solutions for CenterPoint traffic woes
Karen Sorensen | 7/30/2014, 8:08 p.m.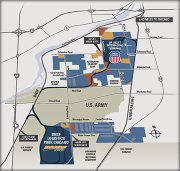 Semis backing up onto interstates, trucks cutting off funeral processions, 18-wheelers crashing through railroad gates – is this the price we pay for commerce and jobs or a place to lay blame for the state's failure to keep up with Will County's skyrocketing intermodal industry?
Both, say county officials, who worry the road improvements needed may never catch to the constantly increasing truck traffic coming in and out of the sprawling CenterPoint Intermodal Center, which is poised to generate as much as $13 billion in investment, wages and taxes when fully built out, according to one state report.
The improvements being made to the Interstate 55/Arsenal Road interchange, expected to be finished by mid-November, should eliminate the truck traffic coming to a stop as it waits to get into the 6,500-acre Route 53 complex. But it's come with a steep price – more than 130 accidents have been tallied in that work zone, including seven fatalities, five of which happened last week.
Will County Executive Larry Walsh said he estimates there are another $5 billion in road improvements needed beyond the $70 million being spent on the new interchange.
"We need to form a battle plan and be prepared," Walsh said.
How did we get here?
CenterPoint is built on land that was once part of the Joliet Army Ammunition Plant, which manufactured munitions from 1940 through the late 1970s. In the 1990s, the land was declared "excess" and the bulk divided up into what is now Midewin National Tallgrass Prairie, Abraham Lincoln National Cemetery, a Will County landfill and industrial parks that house a 3.4 million-square-foot Walmart distribution center and CenterPoint intermodal facilities used by Union Pacific and Burlington Northern Santa Fe railroads.
The center's success has been stunning. It is now the largest inland port in North America.
The concept is simple: Goods are shipped to the facility by train from ports on West Coast, where they are loaded on to concrete pallets and picked up by trucks that deliver them to local distribution centers or elsewhere. Distribution centers have popped up along I-55 and I-80 in Joliet, Minooka, New Lenox, Romeoville, Bolingbrook and elsewhere.
Government officials knew there would be truck traffic, and dictated road improvements be made before CenterPoint was built. But the concept was still fairly abstract in the 1990s, and no one anticipated the thousands of trucks traversing the roads from all directions en route to the complex, Walsh said.
"I don't think they saw the potential of what this was going to be," he said. "Nobody had any concept that we'd be looking at the volumes of traffic that we are."
And things will only get worse, given that Burlington Northern is only 75 to 80 percent built out, Union Pacific is only 15 to 18 percent built out and RidgePort Logistics intermodal in Wilmington just getting started, Walsh said.
While interstate traffic jams caused by trucks create dangerous situations, the Route 53 traffic is equally hazardous. Funeral processions making their way to the national cemetery often get interrupted by semis cutting between cars, sometimes causing mourners to get separated and lost. In 2013, there were 47 instances in which trucks plowed through the railroad gates at Wallace Strawn Drive, sometimes because trucks were caught on the tracks while waiting for funeral processions to pass, officials said. The number of Route 53 crashes has skyrocketed.