Wayne's Words: No mandatory training for interstate truck drivers
Wayne Horne | 7/30/2014, 8:14 p.m.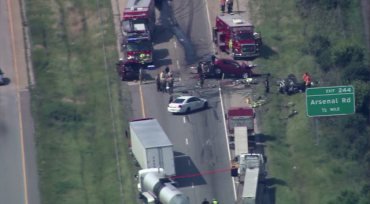 Reaction to the the two fatal accidents on Interstate 55 near Arsenal Road brought several comments from readers.
Retired Bolingbrook trucker Jim Schmitte with 40 years' experience said many big rig drivers lack not only experience but also may not have "any training whatsoever."
The fact is there are no driver certifications required to obtain a Commercial Driver License (CDL) and become a "big rig" truck driver. The only requirement is a state-issued CDL. The way you obtain a CDL is to take a written exam and pass a driving test with an instructor. A similar requirement is necessary for an automobile driver's license.
In downstate Peoria, a newspaper ran an item this last week regarding a CDL driver's license training course being offered by the Peoria County Farm Bureau. The program helps prepare individuals for the written exam needed to obtain a commercial driver's license. The class starts at 9 a.m., ends at 11:30 a.m. and costs $45 if you are a Farm Bureau member. The training is a step towards the CDL driver permit.
There is a shortage of truck drivers in the United States, according to some reports. A quick tour of internet sites offering truck driver training seems to verify the increasing need for drivers. It would be logical that trucking companies only hire trained, experienced drivers, but there is no standard qualification or certification to be a truck driver. Many trucking companies offer their own training for drivers they hire.
Regardless of the training and experience, all drivers who use the highway system must be adequate to the task. However, it is becoming increasingly apparent that is not the case in the region surrounding the intermodal ports in Will County.
No one wants to curtail the economic engine that is CenterPoint Intermodal. But that is the only alternative until I-55 and Route 53 are up to the task of handling the traffic being generated by the CenterPoint facilities. In the meantime, it is probable we'll continue to see a high rate of accidents in the region.
One last thing… Some of the harsh criticism leveled at the management and living conditions of the Evergreen Terrace housing complex was diminished this Truckweek. An award ceremony was held at the complex honoring one of its residents.
Osha King received an Illinois Senate Recognition Award for Academic Excellence by state Sen. Pat McGuire (D-Joliet).
King, a 2014 Joliet Central High School graduate, received the recognition in part for being awarded the Golden Apple Scholar award for 2014. The award recognizes aspiring teachers and also provides undergraduate tuition assistance. King plans to attend Illinois State University this fall to earn a teaching degree. She also has received the President's Education Award from President Obama.
King's accomplishments did not occur in a vacuum. She had the help of a dedicated parent, Noreen King, and dedicated educators at Joliet Central, who helped her achieve academic excellence. Dedication to a goal is not confined to any one group or neighborhood.
I must also note that no other public officials, elected or otherwise, attended the ceremony. Perhaps it was not on their agenda.
At a recent Joliet Zoning Board of Appeals meeting, Chairman Ed Hennessy described Evergreen Terrace as "the notoriously problem-plagued public housing project." Perception is in the eyes of the beholder. I had a reader ask me about Evergreen Terrace recently, after spotting the complex for the first time on a trip to Joliet. He asked, "How did that attractive-looking complex get placed in a deteriorating neighborhood?"
Perception can't always be trusted.
Congratulations to Osha King. It would be difficult to perceive you as anyone other than a rising star.
Stay tuned…
Contact Wayne Horne at whorne@thetimesweekly.com.