Frontier Greys pound the Slammers 12-0
7/31/2014, 10:59 a.m.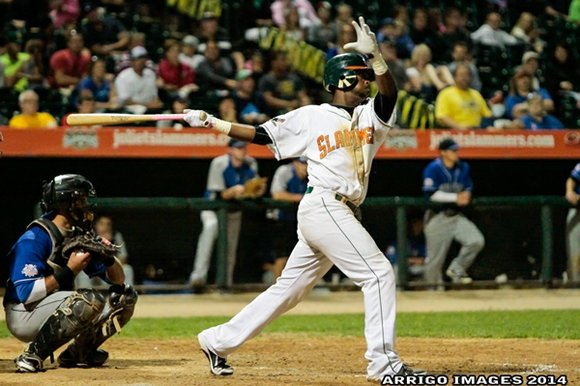 The Joliet Slammers provided this account of Wednesday night's game:
The Joliet Slammers-Presented by ATI Physical Therapy-were knocked out 12-0 on Wednesday by the Frontier Greys at Silver Cross Field.
The Greys had clobbered Gateway 14-1 on Tuesday and their offense picked up where they left off against Joliet on Wednesday. They scored 7 runs in the 1st three innings to take control early. Matt Crim struggled and allowed three hits and 2 runs in the 1st inning. Jon Dziomba homered for the Greys in the 2nd inning and then Crim was knocked out of the game in the 3rd as Frank Florio came up with a 2-run double and Chase Tucked singled in a run. Harry Marino came on and gave up an RBI single to Dziomba to make it 7-0.
The Greys put four more runs on the board in the 6th inning off of Tyler Thicke. Michael Vaughn ripped a 2-run triple to center and then Steve Rogers clobbered a two-run homer to right to make it 11-0. It became 12-0 on a solo homer from Florio. That home run meant that Florio hit for the cycle and it was a natural cycle with the hits coming in order…a single, then double, triple and then home run. The Frontier pitcher, Clint Wright, pitched a four-hit complete game shutout with 8 strikeouts and one walk.
Before the game Joliet released infielder Danny Hernandez and pitcher Colin Gotzon. They signed a lefty pitcher Matt Costello and infielder Matt Weaver. Recently acquired infielder Josh Scheffert was activated as well.
The other move on the day was for Grant DeBruin to get the start for the 1st time this season at second base. Scheffert started at third base and Weaver started in right field. DeBruin's 12-game hitting streak came to an end in the game as he was 0-4.
First baseman Adam Giacalone pitched the 9th inning for the Slammers. It was his first pitching performance since 2012 in junior college. He retired all three he faced and struck out two of them.
The Slammers continue a six-game home-stand with a Thirsty Thursday featuring 2-buck drafts and then a Fireworks Friday on August 1st . Friday will also be Princess Night at Silver Cross Field. Saturday's 6:05pm start is NASCAR night with postgame music from the Fender Benders.