Joliet Grade School Students Receive $1,000 College Scholarships
6/4/2014, 5:03 p.m.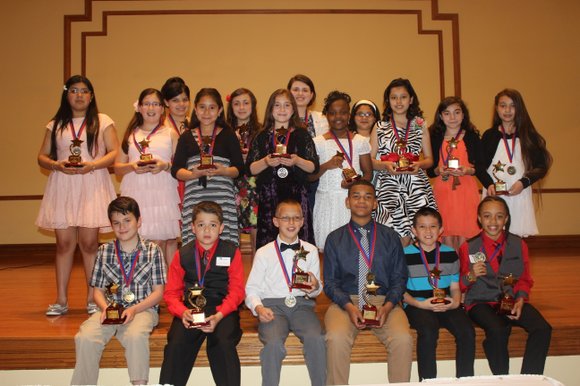 Congratulations to the twenty Joliet Public Schools District 86 students, from grades 4-8, who received $1,000 college scholarships at the 1st annual Joliet Region Education Scholarship Banquet. In order to be considered for the scholarship, students had to maintain a grade point average of 3.75 or above, demonstrate service to their community, and be nominated by a teacher to submit the application and essay.
Winners included: T.E. Culbertson Elementary: Fabiola Valencia, M.J. Cunningham Elementary: Alexis Servin, Eisenhower Academy: Liam Baron, Farragut Elementary: Juan Jose Rangel, Forest Park Individual Education School: Rachael Gudeman, Thomas Jefferson Elementary: Katherine Colome, Edna Keith Elementary: Christina Holman, A.O. Marshall Elementary: Alejandro Vega, Pershing Elementary: Jabari Dent, Narria McCullum, Sator Sanchez Elementary: Daniela Guzman, Carl Sandburg Elementary: Jaria Carter, Isaac Singleton Elementary: Bobby Moore, Taft Elementary: Joseph Owens, Lynne Thigpen Elementary: Giselle Campos, Woodland Elementary: Carolina Gonzalez, Dirksen Junior High: Jazmin Cazares, Gompers Junior High: Lesly Cervantes, Hufford Junior High: Jasmine Flores, and Washington Junior High: Rebecca Verchimak.
"The scholarships are a great incentive for our students to continue to work hard at school and plan for the future. It is never too early to stress to our students the importance of attending college and setting goals." said Joliet Public Schools District 86 Superintendent Charles Coleman.
The goal of the scholarship program is to encourage and motivate student college attendance through recognition and financial reward for academic performance and community service benefitting students in the Joliet area. Thirty four scholarships were awarded to Joliet area students.