JJC Bookstore seeking public donations for troop care packages
6/8/2014, 7:37 p.m.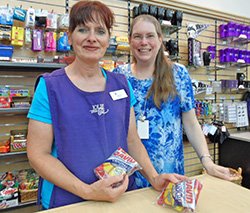 Joliet Junior College provided this news story:
The Joliet Junior College Bookstore is accepting care package items to send to U.S. troops overseas, and anyone is welcome to contribute by bringing in donations to the bookstore on the Main Campus, 1215 Houbolt Road in Joliet.
The bookstore collects both care package items and monetary donations year round, however, their next shipment will go out on June 26. Those who would like to contribute should do so before the shipment date.
The bookstore is also selling pre-made goodie bags to send to troops for $1. These bags, filled with items like beef jerky, sunflower seeds and candy, can be purchased at the bookstore's front desk, and will be sent out with the rest of the care packages. In the past year, the bookstore sold 550 goodie bags, with a total of more than 3,000 sold since they began making them five years ago.
The bookstore partners with Boatsie's Boxes, a non-profit organization that distributes the packages to troops overseas. Boatsie's Boxes sends care packages from around the country to more than 20,000 troops in all branches of the military. The organization also sends items to hospitals and medics in Afghanistan, Kuwait, and Africa.
A variety of items can be donated for the care packages. Big items like basketballs and small items, like travel size shampoo bottles are accepted. Due to the summer season and hot temperatures approaching, all chocolate donations will be saved to send out during the cooler months.
Good items to donate for summer include:
Freezer pops
Neck coolers
Small battery-operated fans
Windex wipes, foam squeegees
Powdered energy drinks
Saline eye drops or nose drops/spray
All purpose wipes (unscented individual packs)
Body wash for men and women
Deodorant
Bug repellent towelettes (no spray, no DEET)
Fly paper/fly swatters
Sun block SPF 50
Carmex or Chapstick
Air fresheners
Over-the-counter allergy medicines
Powdered laundry detergent
Decks of cards
Novels
Current magazines
For a complete listing, visit the bookstore's website at www.jjc.edu/services-for-students/academic-resources/bookstore. For more information about care package donations, call 815-280-2288 or e-mail cmayfiel@jjc.edu.