Shorewood seeking grant money for new south side park
Brock A. Stein | 6/11/2014, 12:13 p.m.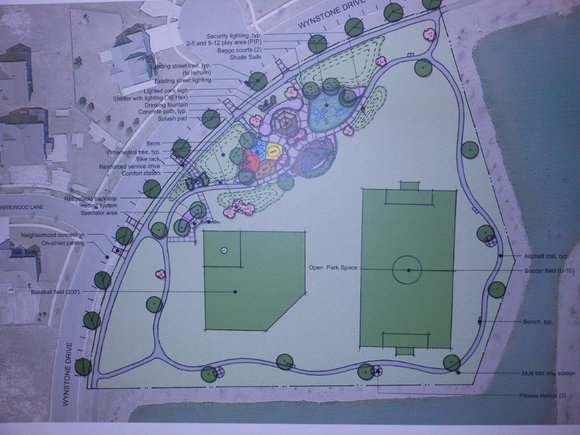 The Shorewood Village Board has approved plans for a new 4.5-acre park on the village's far-south side pending approval of a state open space grant.
Lake Forrest Park, near Wynstone Drive and a quarter-mile north of Mound Road, would be the first to serve residents in the southern portion of the village, Mayor Rick Chapman said.
"It's going to be nice to have a facility to the south," he said.
Plans for the park include a baseball diamond, jogging trails with fitness stations, and lawn space large enough to host soccer games.
In addition, there will be a permanent bag games area, a 36-foot picnic shelter, a rubber-surfaced playground, rest rooms and a medium-sized splash pad, similar to those at the Towne Center and West Shore Parks.
Trustees needed to approve the plan in order to meet a July 1deadline to apply for a State of Illinois OSLAD grant.
The village could expect to hear whether it makes the cut for the second round in the grant competition this fall, said Eric Hornig of Hitchcock Design Group, which put together the park plan.
A nearby drainage pond was a concern for Trustee Ed Murphy, who asked whether the body of water was taken in to consideration when designing the park.
"What about the safety elements?" Murphy asked.
Hornig said the playground was designed to be as far away from the pond as possible, but no fencing or berm was planned to serve as a barrier.
The budget for the park will be just under $840,000, with $400,000 coming from the state grant, Hornig said.
The village has received more than $600,000 from the OSLAD grant program since 2008, using the funds to create the park space at Towne Center and to complete the upgrades at West Shore Park.
Contact Brock A. Stein at brocknewstips@gmail.com and follow him on Twitter at @BrockAStein.