Nine surveillance cameras coming to Plainfield
Brock A. Stein | 6/17/2014, 4:07 p.m.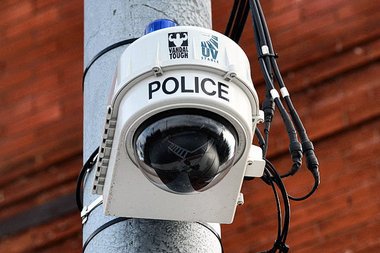 Plainfield Trustee Jim Racich invoked the George Orwell novel "1984" and its dystopian state of constant surveillance under the watchful gaze of Big Brother when he spoke out against a request to purchase police cameras Monday.
Racich criticized the increasing surveillance of residents, saying the cameras were intrusive and bordered on unnecessary.
"We're policing our people all too much," Racich said. "I feel it's ridiculous."
Plainfield Police Chief John Konopek brought a request before the board to purchase security cameras to be placed along the village's Riverfront Park/Electric Park area and for a mobile camera system that would be used during special events in the village, such as Plainfield Fest.
The Plainfield Riverfront Foundation has agreed to partner with the police to cover $10,000 of the $93,265 total for the fixed camera upgrades, which will include a total of nine cameras. Two would be installed at the riverfront, two at the police campus on Coil Plus Drive, two at Settler's Park and one each at Van Dyke Park, the Settler's Park bandshell, and at Lockport Street and Countryman Drive.
The mobile camera system will cost $63,495 and will include an audio system that can be used to make public announcements.
Konopek said that all of the funds for the purchase would come from drug asset forfeiture funds, which did little to appease Racich and Trustee Dan Rippy, both of whom voted against the expenditures.
While acknowledging that crime is down in the village, Rippy balked at the $156,000 price tag for the additional cameras, calling it "a bridge too far."
Konopek defended the purchase, noting that disagreements between attendees at Plainfield Fest last year gave police advanced notice and an opportunity to intervene before a brawl had a chance to break out.
The mobile camera system, he said, helps officers do their job more efficiently.
"What one camera can do would probably take four, six, 10 officers, depending on the size of the crowd," Konopek said.
He also pointed to an arsonist who was caught two years when temporary cameras were set up in the neighborhood where fires were being deliberately set.
"The vast majority of the general public are good people," Konopek said.
"We have to use whatever technology we can to help protect those good people so their lives don't suffer."
Konopek also defended the purchases by saying that asset forfeiture funds are to be used for crime prevention, which the new cameras would help village police do.
"That is exactly what asset forfeiture is for," Konopek said.
Contact Brock A. Stein at bralst1@gmail.com and follow him on Twitter at @BrockAStein.