Retiring principal honored with Niehus Award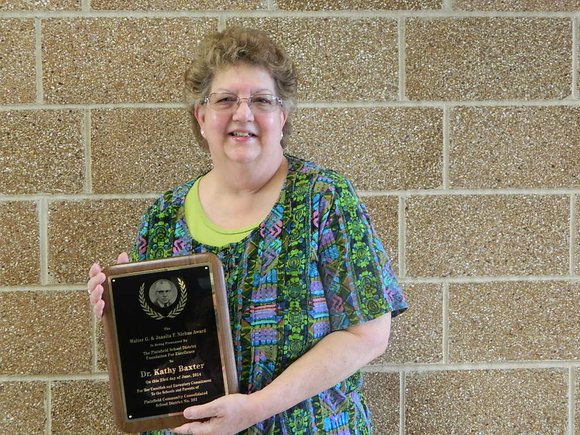 Crystal Lawns Elementary School Principal Dr. Kathy Baxter, who is retiring this month after 40 years in education – all at Crystal Lawns -- is the recipient of the 2014 Walter G. and Juanita F. Niehus Award.
Baxter received the prestigious award at the District 202 Board of Education's June 23, 2014 regular meeting at the district Administrative Center, 15732 Howard Street.
The Niehus Award was established in 1986 to honor the legacies of former District 202 Superintendent of Schools Walter Niehus and his wife, respected former teacher Juanita Niehus.
It is given each year to either certified personnel or non-certified staff and support staff members, nominated by their peers, who show extraordinary commitment to district students, parents and employees.
Baxter is the 29th annual recipient of the Niehus Award. The Plainfield Foundation for Excellence administers the Niehus award for the Niehus family.
"Dr. Baxter's dedication to her students, Crystal Lawns and District 202 is exemplary and certainly worthy of recognition. We are very happy to honor her on behalf of the Niehus family," said Foundation Chairperson Margie Bonuchi.
Foundation Trustee Matt Starr presented Baxter with the award, and noted her many achievements with District 202.
Baxter worked her first 19 years as a fifth grade teacher at Crystal Lawns, and the last 21 years as its principal.
Over those four decades she served in numerous professional capacities supporting Crystal Lawns and District 202 staff, including:
· North Central Regional Chairman for the Illinois Education Association;
· Vice President and President of the IEA Area 15;
· Association of Plainfield Teachers union leader.
Baxter has also led many initiatives and served in leadership roles supporting Crystal Lawns students and families, including:
· Initiating the Family Fun Night with the PTA
· Directing four school plays and two talent shows
· Overseeing the Student Council
· Creating and coordinating the Outdoor Education Program, which continues today
· Assuming various leadership roles with the Trailways Girl Scouts;
· Serving as PTA President.
As well, Baxter has earned many significant awards and honors, including most recently the 2014 Elizabeth "Bess" Eichelberger Award for Distinguished Service.