Impossibly Easy Peach and Raspberry Pie
6/25/2014, 12:40 p.m.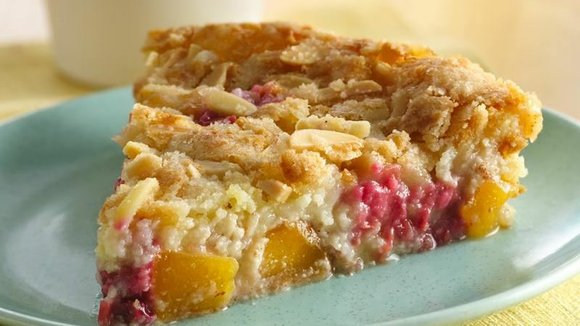 Ingredients
Filling
1 bag (12 oz) frozen sliced peaches, thawed, patted dry and cut into 3/4-inch pieces
½ teaspoon ground cinnamon
¼ teaspoon ground nutmeg
1 cup fresh raspberries
½ cup Bisquick™ Gluten Free mix
1/3 cup whipping cream
1/3 cup sugar
2 eggs, beaten
1 teaspoon pure almond extract
Topping
2 tablespoons Bisquick™ Gluten Free mix
¼ cup sugar
2 tablespoons cold butter
½ cup slivered almonds
Directions

Heat oven to 350°F. Spray 9-inch glass pie plate with cooking spray (without flour).

In medium bowl, stir peaches, cinnamon and nutmeg. Spoon mixture into pie plate; sprinkle with raspberries. In small bowl, stir 1/2 cup Bisquick mix, the whipping cream, 2/3 cup sugar, the eggs and almond extract until smooth. Pour mixture over fruit. Bake 10 minutes.

Meanwhile, in another small bowl, stir 2 tablespoons Bisquick mix and 1/4 cup sugar. Cut in 2 tablespoons butter, with pastry blender or fork, until crumbly. Stir in almonds. Sprinkle topping over pie.

Bake 30 to 35 minutes longer or until knife inserted in center comes out clean and topping is golden brown. Cool on cooling rack at least 1 hour before serving. Store covered in refrigerator.