Pitching fails Slammers, team loses 8-3 to Gateway
6/28/2014, 11:23 a.m.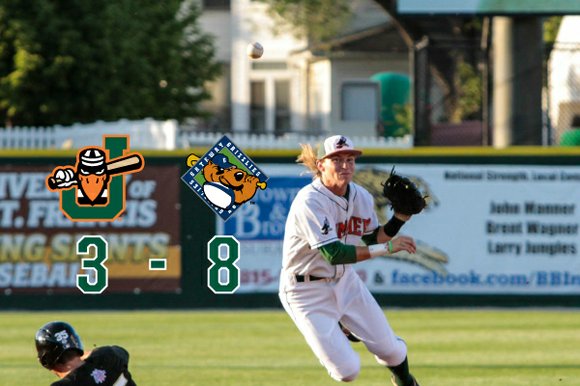 The Joliet Slammers provided this account of Friday night's game:
The Joliet Slammers-Presented by ATI Physical Therapy-fell behind early and lost to Gateway 8-3 on Friday night at Silver Cross Field.
Joliet's starting pitcher was Orland Park-Sandburg HS grad Greg Billo making his Slammers debut. He had been with both the Royals and Angels organizations earlier this season, pitching at the AA level. Billo had a bit of a rough start on Friday, allowing four runs, three earned, on 69 pitches before being taken out in the top of the 3rd inning. Billo allowed a solo homer from Niko Vasquez and had a run score on a wild pitch, an error and a bases loaded walk as well.
The Slammers got on the board in the 5th on a RBI double from Danny Hernandez. Gateway scored again in the 6th on a run-scoring double from Vasquez off of Sam Moore, who went three innings of relief, allowing just that one run. The Grizzlies scored three more in the 7th off of Santo Manzanillo and Harry Marino. Michael Johnson's 2-run double highlighted the inning.
Joliet scored in the bottom of the 7th as Tyler Roberts hit a long sacrifice fly to left field to make it 8-2. It became 8-3 in the bottom of the 8th on a Grant DeBruin RBI single. Max Casper extended his hitting streak to 13 straight games with a single and was involved in three double plays for the Slammers. The Grizzlies maintain first place in the West Division with the win and improve to 26-13 on the season. Joliet falls to 15-21.
Before the game, Joliet released veteran pitcher Chase Doremus. They also traded pitcher Ryan Connolly to the Lake Erie Crushers for a future draft pick and signed relief pitcher Kevin McNorton out of the University of Tampa. McNorton saved 14 games this spring for the 2nd ranked Division-2 baseball team in the nation. McNorton made his pro debut, coming on in the 8th and pitched two shutout innings for Joliet.
The Slammers return to Silver Cross Field tomorrow and Saturday night's 6:05pm start features a post-game concert from "The Curses", featuring Ol' Skool RocknRoll.
Sunday's 1:05pm contest will be a Family Sunday featuring Mascot Mania. All youngsters will get a chance to run the bases after the game and get autographs from the players. Slammers action this summer will be broadcast live on 1340 WJOL and wjol.com and the audio/video feed of home games this season can be seen at independentprofessionalbaseball.com.