Volvo Drive-E powertrains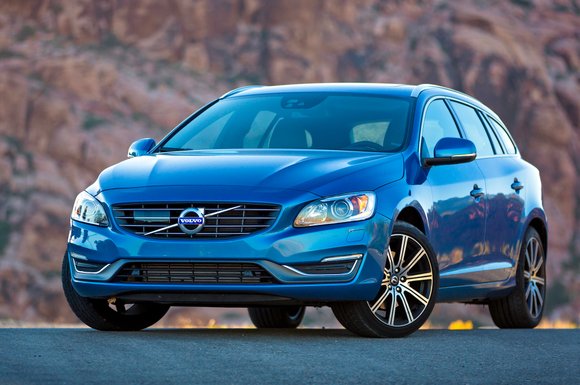 By the way, both engines were mated to a new (for Volvo) eight-speed automatic transmission.
The first half of the day was spent driving the S60 with 302 horsepower. The engine was rhythmically smooth, gear shifts were imperceptible and power was more than impressive. On a long straight two-lane highway we passed a slower moving vehicle, quickly getting over, passed it and then back into the lane. A glance at the speedometer showed that the car had reached 111 mph and was still pulling.
The S60 Drive-E could have gone faster; the top speed is electronically limited to 127 mph because the tires are not rated for a higher speed.
We drove a V60 (sport wagon) back in winds that gusted to 40 mph. Although windy conditions could be seen as we drove along, they could not be heard or felt until we got out the car. The V60 held its track too. We never had to adjust steering because of the really strong winds.
Volvo's Eco+ function shuts off the engine when the car is coming to a stop. In other words, the engine will shut off as any of the Drive-E powered cars slows to 4 mph and comes to a stop. The engine brake will also disengage as the engine speed drops to idle when there is no pressure on the accelerator, putting the vehicle in a coast.
The vehicles had a new instrument cluster. A thin film transistor screen had three settings: Elegance, Eco and Performance each with a different background color and instrumentation. The infotainment system of course had satellite radio and a navigation system. The test car also had adaptive cruise control.
As usual, the seats were outstanding. Not only does the car provide full internet browsing when not moving, it had its own iCloud for cyber storage. Safety systems include the ability to bring the vehicles to a full stop when an obstacle, a pedestrian or a cyclist are detected.
What's more, Volvo said these two Drive-E power plants are the first offerings of the new engine family. There will be diesels but no decision has been made on whether they'll be offered in this market. And the engines' are already configured to work in hybrid applications. Electrification was Volvo's phrasing.
Pricing starts at $33,300 for the S60 T5 Drive-E FWD, $38,150 for the T6 Drive-E, the V60 T5 Drive-E FWD starts at $33,300 and it will be $35,750 for the XC60 T5 Drive-E. A yellow caution light is that Volvo intends to sell the same car with two different engine families. That can confuse the consumer. The quicker the Swedish automaker can switch over to its Drive-E engines for all of its vehicles the better.
Frank S. Washington is editor of AboutThatCar.com.