Crowded field in Will County Sheriff's primary race
The March 18 primary election includes five candidates – three Democrats and two Republicans –vying for the two top spots on their respective party tickets for Will County Sheriff.
The two who emerge winners in the primary will go head to head for the top cop job in the November general election.
Ken Kaupas, of Shorewood, cousin to current Will County Sheriff Paul Kaupas, and Nick Ficarello, of Manhattan, are vying for the Republican spot, while Mike Kelley, of Lockport, Steve Egan, of Joliet, and Ed Bradley, of University Park, are seeking the Democratic spot.
Ed Bradley served as a supervisor for the sheriff's department and retired as a lieutenant in 2009 with 21 years with the department. He recently took a job as chief of the University Park Police Department, but said he would step down if elected sheriff. His years of experience with the sheriff's department, he said, gives him "a more distinct and transparent comprehension of the long-term as well as the day-to-day operations of that office."
"I am running for Sheriff with a passion for 'fairness, justice, and change,' " Bradley said. "Moreover, I still have a passion to help people. I believe that as we are all responsible for our actions and ourselves, we are also responsible for each other."
During his career with the sheriff's department, Bradley said he both applied and prepared himself to be a well-rounded candidate for sheriff.
"I have assumed leadership roles … since I took the oath of office," he said.
Some of his goals if elected would be to prioritize domestic violence intervention and
prevention, be financially responsible, eliminate unnecessary positions within the department, add deputies to the patrol division and the jail, improve response times to areas outside of Joliet and focus on reducing gangs and drugs.
For Bradley, this is his second time running in a three-way race. In the 2010 Democratic primary election for sheriff, Bradley lost a three-way race by a narrow margin to Pete Piazza.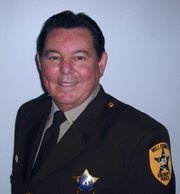 Steve Egan, a lifelong Joliet resident, is a lieutenant with the sheriff's department and has been a police officer for 40 years, 25 of those spent working for the Will County Sheriff's Department.
Egan said there are not enough deputies on the street and there has been mismanagement of limited resources and drug trafficking along Interstate 80 and Interstate 55. Restructuring the department and eliminating the current 'friends and family patronage plan,' he said, would "put more cops on the street..."
He proposes creating a Heroin Interdiction Team or "HIT" squad.

"The drug traffickers and dealers have been preying on Will County residents and their children for far too long," Egan said. "It's time we hit them, hit them hard and hit them where it hurts."
The HIT squad, he said, would be organized and managed by the Sheriff's Office and would include county and local police officers.
Egan said he is the "top-ranking, most experienced, active-duty candidate."
"I'm not a retired cop on a public pension looking to double or triple dip," Egan said. "I know what has to be done to make it safer for Will County families and that's what I'm committed to do."