A year of economic highs for Romeoville
Noak outlines progress made in 2013 in State of Village address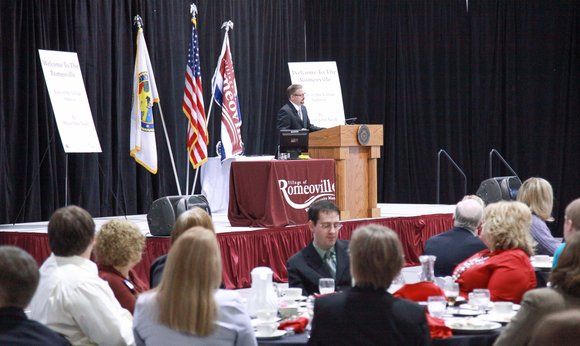 From welcoming more than 85 new businesses to unveiling a new Athletic and Event Center, Romeoville Mayor John Noak looked back on a year of positive economic developments in his State of the Village Address held at Lewis University.
In an auditorium filled with local, county and state elected officials to business owners and educators – a sort of who's who of Will County – Noak went through a litany of accomplishments from 2013. It was Romeoville's 24th annual State of The Village Address.
One of the major developments was the construction and recent opening of the 76,000-square-foot Athletic and Events Center in the village's downtown, along Illinois Route 53 near Normantown Road, in what is now being called Uptown Square.
Noak also touched on another important development just starting to get underway not far from there on property donated to the village by Citgo Petroleum at New Avenue and 135th Street. It is where construction of the village's first Metra station is expected to get underway in the fall of 2015, according to the mayor.
Turning to ways the village has worked to save money for its residents, Noak pointed to help Romeoville received from the Will County Governmental League that assisted in reducing the amount residents pay for electricity. Also, for the third in a row Romeoville has rebated the village's portion of property taxes.
"During this time, we've also instituted new ways to communicate and connect with our residents," Noak said, adding that the village started a "Coffee with the Mayor" program as well as the "Ride Around Town" program where he uses a small bus to take residents on tours of the community to keep them abreast of what's going on.
In addition, the village uses a texting system to notify residents of emergencies and is active with social media, including both Facebook and Twitter, according Noak.
"To say the least, we are a very accessible community," Noak said.
Awards were also given. Sam's Club received the New Business of the Year Award. Metropolitan Industries, which has patented more than 30 new products and services, was named Large Business of the Year. The Brunswick Zone received the Small Business of the Year Award. The Tri-County Special Recreation Association was names Service Organization of the Year, and Tom Wilczak was named Citizen of the Year for his many hours of community service work.
Rex Robinson can be reached at rex@thetimesweekly.com.