2014 Mazda6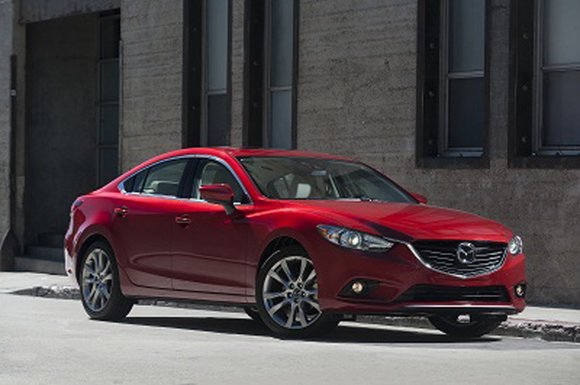 It is amazing that Mazda doesn't sell more cars because the metal the Japanese automaker puts on U.S. streets is near perfection.
Picking up the Mazda6 I Touring from the airport, there was some angst because the car would not start. Foot on the brake and press the ignition button and it still didn't start. Then the light in the mind went on. The test car was a six-speed manual, thus, engage the clutch and a blue light embedded in the start button illuminated signaling the car was ready for ignition and you know the rest.
The point is that not many manufacturers have the nerve to put a manual gear box in a five passenger sedan. But Mazda pulled it off and the set up worked well. Shifts were precise, down shifts were better, and cross gate shifts were buttery. That's saying something for a manual transmission.
It also says something about Mazda's tendency to go its own way. No doubt, there aren't that many takers for a manual transmission, especially one that is placed in a family sedan. No matter, Mazda offers one anyway.
The wintry weather was just ugly. It was real cold, the main streets were relatively dry but the side streets were still packed with snow, slush and there were sizable potholes everywhere. But the front-wheel-drive Mazda6 managed to get around without any problems.
Although the car had push button start and stop, it didn't have push button lock and unlock. So it didn't qualify as having a smart key. No doubt that saved on cost. And there were other areas where cost savings were evident.
The test car was not equipped with a navigation system, nor did it have satellite radio. But the audio system did have Bluetooth and that system could stream Pandora or whatever music that was stored on a paired smartphone through the car's audio system.
The test car was without the company's regenerative braking system and it didn't have Mazda's 2.2-liter diesel engine. But it was equipped with 2.5-liter four-cylinder engine that made 184 horsepower and 185 pound-feet of torque. With a high compression ratio of 13:1, the engine generated eight percent more horsepower and 11 percent more torque than the 2.5-liter four-cylinder that it replaced.
Its EPA rating was 25 mpg in the city and 37 mpg on the highway. After a week's test drive, the car averaged 26 mpg, traveled 227 miles at an average speed of 24 mph, had a range of 162 miles left and there was slightly less than half a tank of gas in the tank. That's not bad by any measure.
Surprisingly, there was ample headroom in the rear seat. That was doubtful because of the Mazda6's sloping roofline. There was also plenty of rear legroom. Though the car was billed as a five passenger sedan, like most cars in this category, it could carry four passengers comfortably.
Mazda has always had better than average fit and finish and the 2014 Mazda6 was no exception. The dash was uncluttered with a touch screen in the center. There were repetitive controls: the control surround on either side of the information screen, control buttons on the three-pronged sport steering wheel and a control mouse at the base of the center console.
That sounds like a lot but it was all done in an egalitarian manner. There just wasn't a lot of clutter or confusion in the interior which was all black in the test car.
What's more, the car looked good. It had a cab forward design, distinctive muscular fenders and sweeping lines. What Mazda called a five point chrome signature wing designed grille was framed by eagle eye shaped headlights. The front fascia housed fog lights; it also had a pronounced chin and large air ducts.
The dimensions of the 2014 Mazda6 were a 111.4-inch wheel base, it was 72.4-inches wide and it had an overall length of 191.5 inches and it was outfitted with 19-inch wheels.
Best of all was the price: $25,010 as tested.
Frank S. Washington is editor of AboutThatCar.com