Black Women's Expo celebrates 20th anniversary
3/26/2014, 8:27 p.m.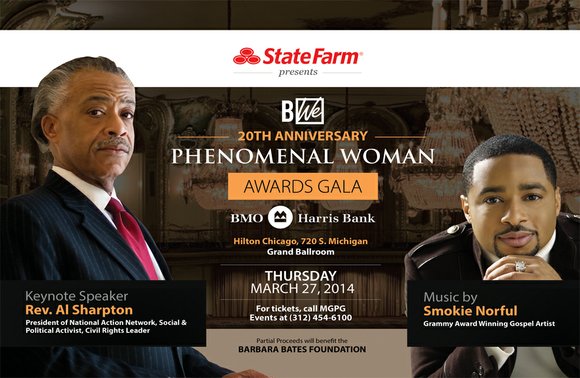 The Black Women's Expo presented by State Farm will celebrate its 20th Anniversary with a stellar line-up of speakers, entertainers and seminars March 28-March 30 at McCormick Place in Chicago. More than 30,000 visitors are expected to attend the three-day exposition that has a mission of enlightening, educating and empowering women and girls of all ages. For the 19th year, State Farm is the Title Sponsor for the Expo, which is the No. 1 national destination event for African-American women in the Midwest. This is Walgreens third year as the Expo's Presenting Sponsor.
ABC's Good Morning America star host Robin Roberts will present keynote remarks at 12 noon on Saturday, March 29, on the Main Stage. Roberts has been a great inspiration to millions of women and girls of all cultures who watched as she personified strength and dignity as she battled major illnesses in recent years.
"We are delighted to have Robin Roberts join us for our 20th Anniversary celebration," says Merry Green, president and CEO of MGPG Events and creator of the Expo. "Robin's participation speaks to the strength she has demonstrated on a personal level and it speaks to the strong partnership that the Expo and WLS/ABC have forged over the years.
"With the theme 'Celebrate Strength,' we salute the millions of strong African-American women who often are the backbone of our communities and in our homes," says Green. "As we have done for the past 20 years, the 2014 Expo will put emphasis on the strength, opportunities, challenges and aspirations of Black women. That is and always has been our priority."
On Friday, March 28, the first day of the Black Women's Expo, Erica Campbell of the celebrated gospel duo Mary Mary will join V103 radio host Doug Banks as he broadcasts his nationally syndicated radio show live from the Expo. Campbell, whose debut solo CD Help is scheduled for release on March 25, will perform Friday on the Expo's Main Stage. Also participating in the Expo will be comedienne Kym Whitley, actor Laz Alonso, and popular authors Dennis Kimbro, Zane, and Steven James Dixon. In addition, TV One journalist Roland Martin, actress LisaRaye McCoy and long-time social activist Dick Gregory will speak during the event. The Rev. Al Sharpton, activist and host of MSNBC's PoliticsNation, will speak during the Phenomenal Woman Awards Gala that will kick off the Expo on Thursday evening, March 27.
On Friday, which is Teen Expo Day, teen singer Yemi Marie will present her Anti-Bullying, Anti-Violence Campaign, during which she encourages teens to make the right decisions and stay away from negative behavior. Yemi also will perform songs from her new CD on the Main Stage. Atlantic Records teen artist Trevor Jackson also will perform on Friday.
During the three-day event, the Expo will feature national experts in various fields who will address topics that are especially important to African-American women, including business ownership, female-male relationships, financial literacy, career advancement, travel, and health, wellness and beauty. New to the Expo this year will be an International Pavilion that will feature vendors from Brazil, Africa, Haiti and the Caribbean. The Belzian American Dancers will perform throughout the exhibition hall on Saturday afternoon.
Over the years, the Expo successfully has partnered with ABC-7, and this year the station again will be the television partner for the Black Women's Expo. Clear Channel Radio (V103, WGCI and Gospel 1390) is the radio partner, and the Chicago Defender newspaper is the newspaper partner. In addition to State Farm and Walgreens, corporate sponsors for the Expo include the University of Chicago Medical Center and the Illinois Department of Public Health.
For 20 years, the Black Women's Expo has been an ideal venue for large corporations and small to mid-sized businesses to reach African-American consumers, which are more than 42 million strong with an annual buying power of nearly one trillion dollars.
About The Black Women's Expo
The Black Women's Expo, presented by State Farm, is a consumer exposition designed to enlighten, educate and entertain. This premier event for African-American women and their families annually draws more than 30,000 attendees from across the Midwest. Highlights of the expo include live entertainment and educational forums on health and wellness, financial literacy, careers, business ownership, relationships and children and family concerns. For more information, visit www.theblackwomensexpo.com, follow us on Facebook at http://www.facebook.com/blackwomensexpo or connect on Twitter #TBWE.