Lyric ends season with Mozart Revival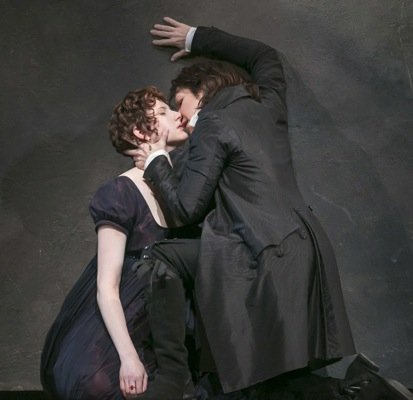 Mozart's La Clemenza di Tito (The Clemency of Titus) was the last opera of Lyric's 49th season, which ended March 23. [The Sound of Music, this year's post-season musical, will run in April and May.] Mozart took a break from writing The Magic Flute to complete this two act opera seria in under three weeks in the summer of 1791 – others wrote the recitatives –and it was performed that September for the coronation of Leopold II, the Holy Roman Emperor, as King of Bohemia.
Sesto (Joyce DiDonato in one of her most famous trouser roles), Emperor Tito's good friend, is in love with Vitellia (Amanda Majeski). Vespasian, Titus's father, usurped her father Vitellius's Imperial Roman throne and she wants it back one way or another. When she learns that Tito (Matthew Polenzani) will marry Berenice instead of her, she manipulates Sesto to agree to kill Tito. Torn between loyalty and love, he chooses the latter. When it turns out that Sesto attacked the wrong man and not only is Tito still alive but that he intends to marry Vitellia, things get complicated. Will Tito have Sesto executed as a traitor, or show him mercy and pardon him? Will Vitellia remain silent, or will she jeopardize both her position and her life by admitting what she did? Is Tito's proclivity for mercy a strength or a weakness? Like the question of honor in Jean Renoir's 1937 film, The Grand Illusion, the answer is unclear.
Sir Andrew Davis led soloists, chorus and orchestra in a satisfying albeit two-tiered performance: Mezzo Joyce DiDonato and tenor Matthew Polenzani were on one level and the rest of the cast was on another. What a great gift–and learning experience–it is to experience two artists at the top of their form working together. True, Ms. DiDonato's Sesto gets the best music, including "Parto, parto" (probably the best known music in the opera, in the first act; enhanced by the playing of principal clarinet Charlene Zimmer) and "Deh, per questo" (in the second), but what she does with them is a master class in terms of sound, line, phrasing and coloratura. In her Northwestern University master class, the work she did with students showed how she achieves the techniques that makes her impeccable passage work seem to just flow. She was amused to share that she got many more questions about what it was like to kiss Amanda Majeski (the first scene gets rather passionate) than about musical issues. She also discussed how her Sesto of seven years ago was much different that this one.
Wilmette's own Matthew Polenzani, one of the greatest successes of Lyric's Ryan Opera Center, was doing his first Tito. He showed why he is deservedly recognized as on of today's finest Mozart singers. His Tito was a fully realized character, stylistically superb, sung with a full sound palette. The only, very minor flaw was that passage work was occasionally sluggish.