Lyric ends season with Mozart Revival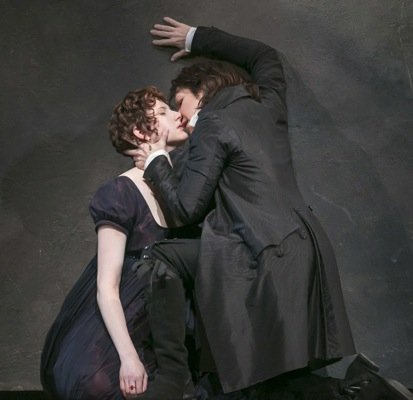 Casting Amanda Majeski as Vitellia, the third protagonist of this story, was a vote of confidence for the heights her career, still in its relatively early stages, is expected to attain. Her Vitellia was both aggressive and vulnerable; her singing was passionate and technically accomplished; her low notes were especially gorgeous. Cecelia Hall as Annio, the other trouser role, radiated loyalty to his true love, Sesto's sister Servilia (Emily Birsan in a delicious cameo), his best friend and his emperor. Bass-baritone Christian van Horn was Publio, Tito's wise and even-handed advisor.
Originally created for an open air space at Aix-en-Provence, the production lost something in translation to the Civic's stage. The McVicar productions I've seen all had a large concrete creation or two with steps or handrails for climbing. This one–dominating the right side of the stage, sometimes sliding to center stage–seemed a cross between the Lincoln Memorial and the stair/seats in an amphitheater. People sat, stood or sprawled on it; often then ran up and/or down; some stumbled but, thankfully, no one fell.
Tito and Servilia word white (his costume had a shiny patina); everyone else wore shades of black in a kind of Regency-meets-Rome amalgam homage to Mozart's time The soldiers, first encountered doing a Sufi style, whirling sword dance, wore Roman type armor over short-skirted coat uniforms and high boots. A partly covered bust, center stage, the first focus point of the opera, was revealed, at the end when the drape was removed, as a blood-red head atop a silvery torso. Showing some kind of symmetry, perhaps, Tito, in a gold-bordered vermillion toga/cape with a long, trailing train–now alone–again traversed the steps. He scrunched and cradled the train as if it were a baby: Rome, his baby. Had these excellent musical forces been deployed in a concert or semi-staged production, at least one viewer would have been the happiest of campers.
Asides: Tito did not always vacillate: He led the Siege of Jerusalem, which resulted in its total destruction.