Foster launches jobs program for 11th district
Challenge will be getting applicants trained, ready for high-tech jobs
Rex Robinson | 3/31/2014, 6:07 a.m. | Updated on 4/1/2014, 9:43 a.m.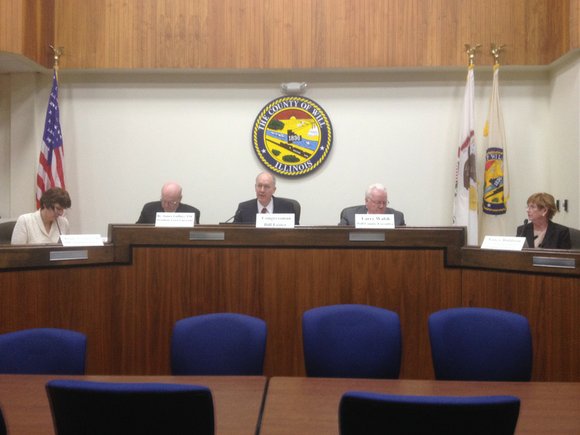 U.S. Rep. Bill Foster (D-Naperville) on Friday launched 'Project Growth,' an initiative aimed at creating jobs and economic development in11th Congressional District, which includes Will County.

Foster held a press conference in the Will County board room to announce the initiative and was joined by Will County Executive Larry Walsh, John Greuling, President and CEO of the Will County Center for Economic Development, Nancy Baldwin, Vice President of Human Resoures and IT for Nanophase Technologies Corp., Joan Wisniewski, Human Resources manager for Pactiv, Brother James Gaffney, president, Lewis University and Steve Schilke, Project Manager for the Illinois Department of Transportation.
The initiative will focus on four key issues to spur growth: strengthening the middle class, transportation, education and manufacturing. Foster launched Project Growth by hosting a discussion with community leaders on these key issues.
"Over the past year, I have met with people throughout the 11th District – from local business owners, to mayors and village presidents, to educators, to hard-working men and women – who are doing their part to support economic development," Foster said. "With the launch of Project Growth, we will bring together members of our community to develop an agenda to grow our local economy and bring jobs and opportunity to our region."
In the last year, Foster toured the 11th District, meeting with more than 145 businesses and community groups. As part of Project Growth, Foster said he will continue to meet with businesses, individuals and community groups to develop an agenda for growth for the 11th District.
In Will County, one of the problems has been finding qualified applicants with the necessary technical skills to fill the available jobs, officials at the press conference said.
Greuling said the county is attempting to fix that problem through various job training programs through the Will County CED's Workforce Services Division.
Both Baldwin and Wisniewski both said it is essential that applicants come in trained and ready to work for the jobs available at their respective companies.
Meanwhile, Gaffney credited Greuling and the CED for the reports the data collected on available jobs and the industries that are hiring. That information, according to Gaffney, enables the university to better prepare students for those jobs.
Logistics, transportation, health care are just some of the sectors where jobs are available in Will County. Advanced manufacturing is another area where there is growth, but again Greuling and others stressed the importance of having a trained workforce ready to take those positions.
He and others stressed how critical it is to have a trained workforce ready to take on the jobs available from the companies that are already operating in the region and those that are considering moving into the region.
Greuling has said in the past that if the workforce is not available, companies will move somewhere else where they can find people to fill the jobs.