Kinsey Report kicks off 2014 museum Rooftop Music Series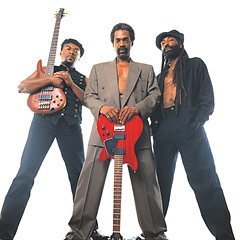 This year's Summer Rooftop Music Series at the Joliet Historical Museum kicks off its fifth season with The Kinsey Report on May 15.
Tickets are on sale for the live show, which features the contemporary blues music of brothers and Gary, Ind., natives Donald, Ralph and Ken Kinsey.
The show starts at 7:30 p.m., and tickets on sale now are $10 for the general public and $8 for museum members and students.
The museum is located at 204 N. Ottawa St. in downtown Joliet, and there's free parking across the street from the museum at Webster and Ottawa streets.
Four additional shows make up the series. Here is information provided by the museum on the coming concerts:
June 12 -- Shawn Holt and the Teardrops; Shawn carries the tradition of his father, world-renowned bluesman Magic Slim's tradition with the Teardrops, playing a mix of high energy as well as traditional blues. The Teardrops have been nominated for the WC Handy "Blues Band of the Year" more than any blues band playing today -- 8 times in the last 10 years! Touring behind their new album, "Daddy Told Me" Shawn and the Teardrops are garnering rave reviews while touring with legends like Johnny Winter.
July 10 -- Strung Out Band; Strung Out is Chicago's most unique classic rock band. Their dynamic blend of guitars, cello, violin, keyboards, bass, and percussion, topped off with outstanding vocalists, create an unforgettable sound. You'll hear the greatest Classic Rock, Pop, Southern Rock, AM/FM Radio Cuts, and everything in between. Songs people know and love, performed by a band that loves to entertain. So get ready to sing, dance, and have fun with the amazing musical experience only Strung Out can provide.
Aug. 14 -- Classical Blast! A unique 4-pc band dedicated to bringing the classical arts to mainstream rock & pop music. Classical Blast are classically trained musicians who love to rock and believe in the power of the arts - to inspire, to educate, to uplift, to effect change, even to heal. Classical Blast's style, technique and tools breathe new life into rock music as well as the classics. From Bach to classic rock to metal to pop, you'll find CB's approach to music a refreshing change. An evening with Classical Blast is a total blast for any age!
Sept. 11 -- SOUL MOTION; Soul Motion is here to wash your blues away and put the groove in your feet by tapping the music of the soul, blues, R&B and Rock & Roll greats. You'll hear classic hits from the likes of James Brown, The Impressions, and Joe Cocker, to more recent gems from artists like Popa Chubby; all with the infectious power to get you dancing the night away! And the party comes with more than just the music. SOUL MOTION brings a fun attitude and the desire to make sure everyone has a great time!
Seating is limited. To register to attend a show, call 815-723-5201, Ext. 222. No tickets will be mailed. The names of registered guests will be entered on a check-in list. Guests will provide name upon arrival at the check-in table.
For more information, go to www.jolietmuseum.org/special-events.