Let the 'green rush' begin
Applicants for medical marijuana dispensaries are starting to emerge as state finalizes rules and regulations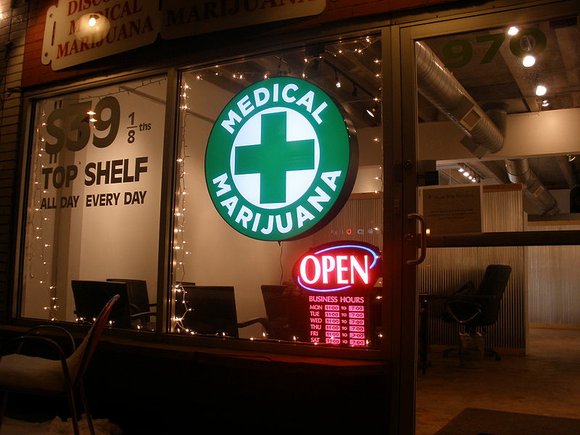 There's green to be found in medical marijuana dispensaries that will be dotting the Illinois landscape in the none-too-distant future, and not just of the green, leafy variety.
With only three licenses available for the whole of Will County, expect a crowded field of applicants vying for state approval to open clinics permitted to sell pot in all of its edible, drinkable and smokable forms – and to possibly rake in as much as $20 million a year, according to one company's estimate.
Given the size of Joliet's population and its location as the county seat, it seems likely at least one of those licenses will be awarded to a Joliet business owner.
And, indeed, one of the first applicants to emerge – a trio of businessmen who own a 2,500-square-foot unit in an industrial-type building near Houbolt Road and Interstate 80 – have already brought their proposal to the Joliet City Council's land use committee for special-use permit review. The committee not only recommended council approval, but endorsed a time extension from the standard 180 days to a full year since the state's licensing procedure timetable is not set.
City Manager Jim Hock said at least three others have contacted him about getting the same approval for their sites, and there's also a company interested in getting state OK to build a cultivation center in Joliet. (Only one will be allowed in Will, Kendall and Grundy counties.)
But as Hock told the committee last week, getting a special-use permit from a municipality is no guarantee the state will green-light the holder. It is, however, a mandatory first step for anyone who hopes to obtain one of the coveted licenses.
And coveted they are. Several companies, with names such as Green Rush Consulting and Illinois Dispensary License, have emerged to help shepherd prospective dispensary owners through the sea of red tape that will be the licensing procedure.
In fact, the state is still issuing regulations for the new dispensaries, and no appointments have been made for the committees that will issue dispensary and cultivation center licenses.
What is known is there will be 60 dispensary licenses for the entire state – 11 for suburban Cook County, nine for the city of Chicago, three each for Will, DuPage, Lake and Kane counties, one each for McHenry, Kendall and DeKalb counties, and the rest spread around the rest of the state.
Of the 19 states that have approved medical marijuana thus far, Illinois is one of the strictest in terms of regulations. Adults who receive a doctor's approval to use pot for medical reasons must have one of 40 specific conditions, such as multiple sclerosis and severe fibromyalgia, must obtain a patient identification card and can only purchase 2.5 ounces every two weeks.
Just to apply for one of the dispensary licenses, the applicant must pay a $5,000 non-refundable fee to the state, prove he or she has at least $400,000 in liquid assets and place $50,000 in an escrow account. If they are granted a license, it will cost $30,000 a year.
Security measures, including lock systems and video camera surveillance, are stringent and spelled out in the legislation.
With all of those safeguards in place, Hock said he does not anticipate any problems being generated by the dispensaries or those who use them. The clinics will have far less "merchandise" on hand than a typical drugs store, and security will be as complex as that of a jewelry store.
As for the benefit to the city, there really none other than the jobs that will be created, Hock said. The city does not get any sales tax money from the marijuana sold, he said.
"I think it should be treated just as any medical business would be," Hock said.