Lockport Township High School senior crowned at debutante ball
Jean Tyrell | 5/7/2014, 1:39 p.m.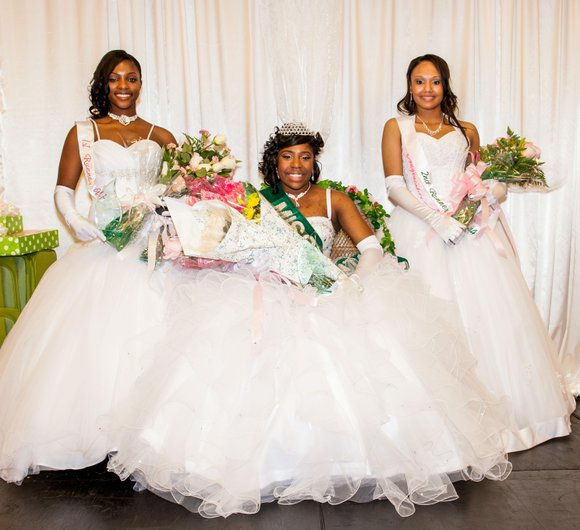 Khadriene Rose Green was crowned Miss Fantasia 2014 during "One Enchanted Evening," the biennial debutante ball sponsored by the Tealight Foundation and the Kappa Mu Omega Chapter of the Alpha Kappa Alpha Sorority.
On April 26, 2014, Khadriene became the 22nd Fantasia Queen, and her $10,877 effort to raise money for the sorority will support the sorority's community outreach.
Khadriene and eleven other debutantes were presented by their families to a crowd of over five hundred at the Holiday Inn in Joliet. Family, friends and supporters watched the girls and their escorts dance the foxtrot and bop to the music of the hit song, "Happy." The monies raised will be used by the Sorority in their scholarship and philanthropic efforts.
Last year alone the Tealight Foundation awarded seven college scholarships and provided volunteers for programs that served the greater Joliet community. By presenting these young women at the debutante ball, the Tealight Foundation gives them opportunity to polish presentation skills, to develop character, and to participate in community service. The girls attended a series of workshops on these themes. Commitment and practice begin months before the actual event.
The new Miss Fantasia, Khadriene, is the daughter of Janette Bishop and Jeffrey Green and is a senior at Lockport Township High School. She was escorted by Emile Wisdom.
The first runner up was Tyashia Pierce, a senior at Joliet Central and the daughter of Monte Camp; Betty Moore and Darnell Pierce. Her escort was Tre'vion Neal. She raised $9,911.
The second runner up was Kayla Norris, Minooka High School, the daughter of Christine and Erik Norris. Her escort for the evening was Derrick French. Her fundraising efforts brought in $7,239. More at thetimesweekly.com