Pair broke into occupied Bolingbrook home: Police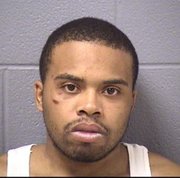 A Bolingbrook woman and her accomplice broke into an occupied home Wednesday and tried to steal a video game system before being scared off by the resident, Bolingbrook Police Lt. Mike Rompa said.
Leslie Vanessa Moctezuma, 20, of 350 Springmist, and Antwon M. Rainey, 21, 3606 Sunnyside Ave., Chicago, face residential burglary charges in connection with an incident that occurred at about 10:30 a.m. in the 200 block of Dakota Court, Rompa said.
With Moctezuma serving as lookout, Rainey spent 30 minutes walking around the property and knocking on the door to the house, he said. The man and woman inside the house did not answer, he said.
Apparently thinking the house unoccupied, Rainey kicked in the door and attempted to steal a video game system, Rompa said. The male resident confront Rainey, who responded by battering him and fleeing, he said.
The pair were found in the neighborhood, and were identified by the victims. Both were arrested and are being held in the Will County jail.

Rainey was charged with home invasion, residential burglary, criminal trespass and battery. Moctezuma was charged with residential burglary.
Contact Karen Sorensen at Karen@TheTimesWeekly.com.