JJC's farmer market vendor, product list announced
5/12/2014, 2:24 p.m.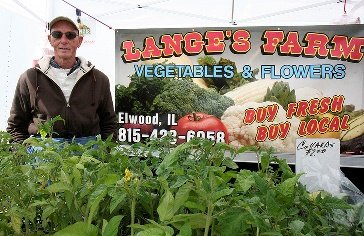 Joliet Junior College provided this news release:
Joliet Junior College invites the community to the grand opening of its second annual summer Farmers Market on Thursday, May 29 at 2 p.m. by the Greenhouse Facility on Main Campus, 1215 Houbolt Road in Joliet.
The 2014 Farmers Market will run on Thursdays from May 29 to Sept. 18, 2 to 6 p.m.
"We are very excited to be hosting our second summer Farmers Market," said Horticulture Professor Donna Theimer. "Not only does the market provide business opportunities for local vendors and small businesses, but it provides the community with access to fresh, locally produced food and produce."
Approximately 25 local vendors are expected to participate this year, offering products like fresh produce, specialty baked goods, artisan cheeses, pasture-raised meats, handmade soaps, and much more (see the current vendor list below).
The Farmers Market accepts Illinois SNAP/LINK funds for eligible items, and most forms of debit and credit cards in addition to cash.
This is the second year JJC will host a weekly farmers market in the summer thanks to a $92,000 grant awarded to the college in 2012 from the U.S. Department of Agriculture's Farmers Market Promotion Program (FMPP).
JJC was the only community college in the nation to receive grant funding from this program, and was one of 131 projects in 39 states to receive funding under the USDA's FMPP. The grants are targeted to help increase and strengthen direct producer-to-consumer marketing channels. Through a competitive grants application process, FMPP funds marketing proposals not only for farmers markets but also for community-supported agriculture programs.
For more information, contact Dorothy Rosier at drosier@jjc.edu or 815-280-6622.
Vendors* and products:
Albo Acres -- Alpaca fiber garments and toys
Arnold's Farm -- Frozen cuts of beef, pork, & chicken, grilled sausage, pulled pork and/or Italian beef sandwiches
Auntie Vee's Cupcakes – Cup cakes, cookies, pies
Buddy's Biscuit Bakery -- All natural dog treats
Country Pond Gardens -- Assorted fresh vegetables
Dee Dee's Delights -- Cookies, brownies, peanut butter cups
Drover Trail Natural Farm -- Fresh produce, lettuce spinach, tomato, pepper, onion, potato, garlic, squash, radish, turnips, broccoli, cabbage, kale, green beans, snap peas, asparagus, swiss chard, beets, carrots, rutabaga, kohlrabi, flowers, fresh eggs, honey
Enjoi Bakery -- Cookies, cakes, brownies
Grow Tower Gardens -- Tower garden set-up
Harrison L. Frazier -- Fresh corn
Lange's Farm -- vegetable varieties
Mr. Salty -- Flavors of fresh-made kettle corn, lemon shake-ups, cotton candy, nachos, etc.
Nuts for Soap Inc. -- Soap, serums, lotions, balms, all handmade
The Olive Galery -- Specialty oils, balsamic vinegars, spices
Parmesans Woodstone Pizza -- Pizza by the slice, take & bake pizza, pizza pop (stuffed pizza breads), assorted fresh pastry, cheesy breads, pesto sauce, flat breads
Ms P's Gfree -- Gluten-free cakes, cookies, muffins, pies
Real Appeal Inc. -- Gluten-free packaged goods
Rich's Sharpening Service Inc. -- knife and tool sharpening service
Sinfully Delicious -- gluten-free baked goods
Sunset Growers -- Greenhouse plants
Sweetchick Soapery -- Handmade artisan soap, body butter, bubble bath bars
Stamper Cheese -- Artisan Cheese
*Vendor list subject to change.