Greenwell Invited To Bears Mini-Camp
5/14/2014, 12:49 p.m.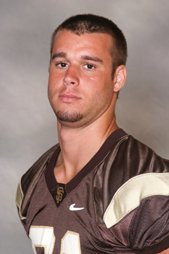 University of St. Francis tight end Dustin Greenwell, who completed his playing career with the Saints this past fall, has been invited to attend the Chicago Bears' rookie mini-camp this week in Lake Forest.
Greenwell will report to the Chicago Bears' training facility along with the team's draft choices and undrafted free agents for three days of practices beginning Thursday. At the conclusion of the mini-camp, selected players will sign with the Bears and attend their organized team activities (OTAs) later in the month.
A two-time All-Mid-States Football Association selection, Greenwell caught 87 passes, including 10 for touchdowns, as he helped St. Francis post four consecutive winning seasons and reach the NAIA national quarterfinals in 2011. As a senior in 2013, he had 39 receptions for 455 yards and four TDs.
"I have thought about playing in the NFL for many years, but it's something you don't talk about much, especially when you're from a small school," Greenwell said. "You try to stay realistic."
Greenwell's initial contact with NFL scouts came at a pro day at Northern Illinois University in early March, where he performed well enough to draw the attention of several teams. He went on to exhibit his skills at the NFL Super Regional Combine at Ford Field in Detroit, then for the Chicago Bears at a pro day for players from Chicago-area schools in mid-April. NFL scouts were particularly impressed with his leaping ability, which was rated among the top 10 among players at his position. As the May NFL Draft approached, Greenwell's name began appearing on several draft prospect lists.
Greenwell was not selected in the NFL Draft, which concluded Saturday, but shortly after the final pick was announced, he received a call from the Chicago Bears inviting him to attend this week's rookie mini-camp.
"It was a relief getting that call," Greenwell said. "The draft ended about 8 o'clock, and it was about two hours later that they called."
"Dustin did it the right way," said St. Francis head football coach Joe Curry. "He had a great playing career and now has a chance to represent St. Francis in the NFL. He worked hard in the off-season to get his name out there, which was crucial coming from a small school. I am very proud of Dustin and what he has accomplished to this point."
Greenwell becomes the second St. Francis player to earn an invitation to an NFL mini-camp. He joins wide receiver Dempsey Norman, who was an 11th-round pick of the Phoenix Cardinals in 1990.