Plainfield Village Hall getting spruced up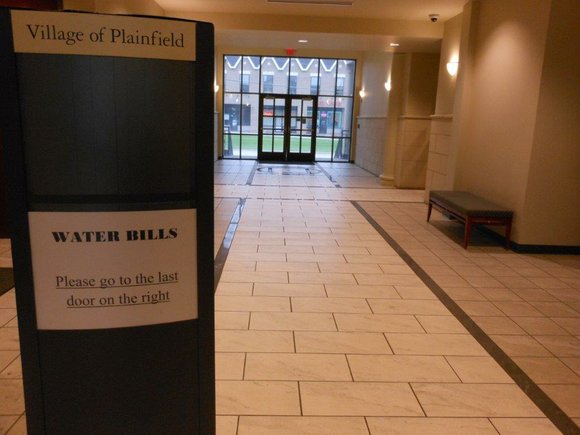 A decade after opening, Plainfield Village Hall is getting a little face lift.
Trustees have approved a plan for a $149,000 makeover that will include work that will update air systems and firewalls as well as new carpeting.

Under the renovation plan, the village will also consolidate two front desks dedicated to administration and management services departments to increase efficiency for residents coming in to village hall.
$120,000 of the cost of the remodel will be covered by an extended cell tower lease agreement that the village recently signed. The lease agreement which was set to expire in 2023 was extended to 2048 at the request of the cell company, SprintCom.
Management services director Traci Pleckham said that money from the lease agreement that would normally be funneled in to the village's general fund would be placed in the village's capital fund for the improvements.
"So the $149K although it was budgeted will be less of an impact to the current fiscal year budget that we're in," said Pleckham.
The work to be completed will be handled by contractor F.H. Paschen through the City of Naperville's Cooperative Job Order Contract (JOC) program which Pleckham said was similar to joint purchasing agreements that allow multiple government agencies to take advantage of competitive pricing.
She noted that the program complies with state bid requirements. Pleckham said that after 10 years, areas of the hall are starting to show their age with carpet buckling and fraying in spots. Some areas of carpet are being held down with duct tape.
"There are trip hazards in many areas," she said.
Upgrades to the hall's HVAC systems will improve air quality.
The consolidation of the Management Services and Administration front desks will eliminate confusion when residents enter the hall, not knowing where to go said Pleckham.
"When you come in to the building it's kind of an empty area," she said.
"It's been a little challenging serving the residents."
Mayor Michael Collins reiterated the real cost of the project in light of the recent $120,000 cell tower lease agreement. Trustee Jim Racich defended the expense, equating the work to improvements a homeowner would make on a 10-year old house that needs new paint and carpet.
"I don't see $149,000 bankrupting us," said Racich who noted that the needs of the community have changed since 2004.
No timeline has been announced for when the project will be completed.
Contact me with Plainfield and Shorewood area news at bralst1@gmail.com or on Twitter @BrockAStein.