Pizza for U opening sit-down restaurant in Joliet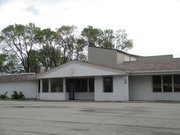 The Pizza for U carryout/delivery chain will open its first sit-down restaurant in the former Bellagio's Pizzeria location in Joliet this summer.
Owner Brad Hansen said work is under way to remodel and install new kitchen equipment in the 116 S. Larkin Ave. building, which has been vacant for more than a year.
When the new restaurant opens sometime in mid-summer, the Pizza for U location in the Larsen's Corner bar building at Jefferson Street and Midland Avenue will close, Hansen said. They've been in that spot for 10 years, he said.
"We're trying to get the new building into shape, and that's going to take a little time," he said. "(We like the new location) because it's in a high-traffic area."
Pizza for U's first storefront opened in Channahon in 1991, and Hansen has since added stores in Shorewood, Lockport, Joliet and Manhattan, he said.
"I decided if I want to have something for retirement, I'd rather purchase a building and do (a full-service) restaurant," he said.
When complete, the new eatery will seat about 110 people and will offer a party room to accommodate groups of up to 30, Hansen said. Initially, they'll stick with the chain's existing pizza, sandwich and appetizer menu but will eventually add more items once they're up and running, he said.
Hansen also plans to seek an beer and wine license from the city, he said.
The business will employ about 10 or 15 people, and will continue to offer delivery and take-out service.
Contact Karen Sorensen at Karen@TheTimesWeekly.com.