Plainfield celebrates downtown district's 'national register' status
5/15/2014, 11:03 a.m.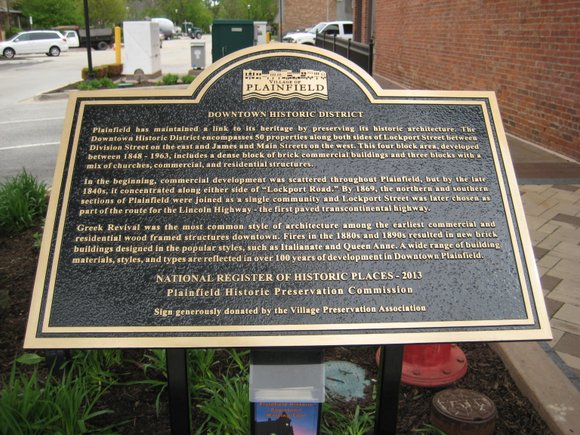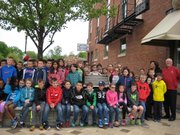 A plaque announcing downtown Plainfield's status as a Downtown National Register District was unveiled in a Wednesday ceremony attended by the mayor and city council, members of the Plainfield Historic Preservation Commission and a group of Central School third-graders.
Plainfield is one of only 15 municipalities in Illinois to have its downtown district added to the National Register.
The village issued this information about the downtown district, and the benefits of being on the register:
"Plainfield's National Register District runs along Lockport Street between Route 59 and James Street and includes 53 properties. Notable buildings such as the Plymouth Congregational Church, Clock Tower Building (Opera House), and Masonic Lodge are part of the district. The architecture in the district consists of a diverse variety of styles including Greek Revival, Italianate, Queen Anne, Richardsonian Romanesque, and International. There are also vernacular house types like upright and wing, bungalows, American Foursquares, and vernacular 20th Century commercial structures. The broad range of styles, building types, and materials reflect over 100 years of development in the downtown from the 1840s through the 1960s.
"The National Register designation reflects the Village Board's commitment to preserving the best of Plainfield's history. Over the past decade, the Village has invested a substantial amount in numerous façade restorations and the streetscape project which have assisted in the revitalization of the downtown. One of the major benefits of the new National Register District is the opportunity for property owners to seek up to a 20% tax credit for any historical rehabilitation of a commercial structure in the district."