Lyme disease on rise in Will County; health department urges precautions
5/20/2014, 10:42 a.m.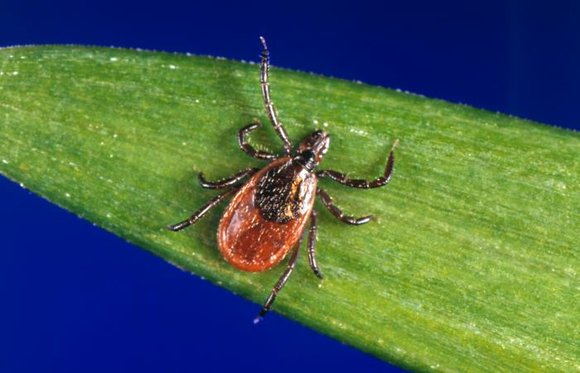 Nearly a third of the Lyme disease cases reported in Will County since 2009 occurred last year, according to the Will County Health Department, which issued this warning to residents Tuesday about taking precautions to avoid ticks that carry the disease:
Lyme Disease is the most prominent of several illnesses carried by ticks, tiny blood-sucking insects that may be no larger than a poppy seed.
With the arrival of warmer weather, the Will County Health Department urges hunters, campers, hikers, and others who spend time outdoors to be especially mindful of the risks posed by Lyme Disease and its potential complications. Lyme Disease is known to have infected more than 340,000 Americans since 1982, and scientists believe that total represents only a fraction of the actual incidence.
While West Nile Virus has received much more attention, Lyme Disease has quietly become the nation's most common vector-borne illness. Health officials have documented a steady increase in Lyme Disease cases since 2000, and Will County activity has also been increasing.
There have been at least 40 confirmed Will County Lyme Disease cases reported since 2009, including 13 new confirmations in 2013. Will County Infectious Disease Control has investigated at least 350 potential cases of tick-borne illness since 2008. Current Illinois Lyme disease totals are not yet available, but state cases increased by 44 percent in 2011 and have grown by more than 400 percent since 2003.
Lyme Disease is a progressive and potentially serious infection transmitted to humans through the bite of an infected deer tick. State health officials began closely monitoring Lyme Disease incidence after noting a case increase of more than 317 percent between 1999 and 2003. Since then, the black-legged deer tick has been identified in growing numbers throughout the northern third of the state.
More ticks inevitably mean more potential Lyme Disease transmissions, particularly from April through July, when the tiny insects responsible for illness are more active. The deer tick is now commonly identified in several Chicagoland counties, including Will, Kankakee, Cook, and Winnebago.
While much has been learned about Lyme Disease transmission, symptoms, and the need to avoid exposure, questions still remain. Until unresolved questions are answered, physicians and scientists agree that the need to avoid ticks is especially critical during spring and the early summer months.
Outdoor enthusiasts are at special risk for Lyme Disease, which can produce joint pain, aseptic meningitis, facial palsy, cognitive impairment, and heart abnormalities. The best way to minimize the Lyme Disease threat is to steer clear of areas likely to harbor ticks.
Black-legged deer ticks favor a moist, shady environment. Wooded, overgrown habitats are most likely to shelter ticks.
Wear light-colored clothing when frequenting wooded areas where ticks may be present. Long sleeves, pants, shoes, and socks are highly recommended. You should also examine yourself frequently after camping, hunting, hiking, and other outdoor activities in or near wooded areas.
Insect repellents are advised. Always read the label before applying insect repellent.
Quickly remove any ticks you find attached to your skin using fine-tipped tweezers. Gently grasp the tick and pull it with a steady, upward motion. Removing ticks during the first 24 hours lessens the potential for disease transmission.
After removing attached ticks, always disinfect the bite with soap, hot water, rubbing alcohol, or hydrogen peroxide. Thorough hand washing after handling ticks is essential.
Remember to record the date and location of tick bites. Consult a health care provider immediately if a rash, or flu-like symptoms appear after tick removal, or time spent in brushy, wooded areas.
U.S. tick species are known to transmit at least 10 diseases, including Rocky Mountain spotted fever, babesiosis, and tularemia. For more information about tick-borne diseases, consult www.idph.state.il.us http://www.idph.state.il.us/ .