Muldowney Named Grand Marshal
5/21/2014, 12:23 p.m.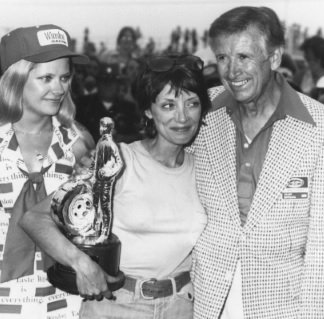 Route 66 Raceway™ announced Shirley Muldowney as the Grand Marshal of the O'Reilly Auto Parts Route 66 NHRA Nationals presented by Super Start Batteries, June 26-29 at Route 66 Raceway. Muldowney will appear throughout the four-day weekend at various autograph sessions and Championship Sunday's pre-race ceremonies and track walk.
Muldowney, named the fifth-best driver in sport history by the NHRA in 2001, made a career of outclassing most of the men in her field with 18 NHRA national event wins, the first coming in 1976, which was the first victory by a woman at a NHRA national event. The ascent to legendary status continued when she won the 1977 Top Fuel world championship, becoming the first woman in history to claim drag racing's elite crown. She won the same title in 1980, making her the first driver, male or female, to capture the championship twice in a career. Muldowney also won the AHRA championship in 1981, and followed that up with her third Top Fuel world championship crown in 1982, while simultaneously being awarded the Top Fuel Driver of the Year for the second consecutive season.
Shirley Muldowney's career also featured its share of adversity, including a nearly fatal 1984 crash that could have ended her career. A tire failure caused a crash at over 250 mph, resulting in a myriad of injuries, including severely broken legs. After several months of grueling rehab just to begin to walk, Muldowney was back in a dragster and earning 1986's "Comeback Driver of the Year" award.
As a member of both the Michigan Sports Hall of Fame and the Don Garlits International Drag Racing Hall of Fame, Muldowney is widely recognized as one of the sports true pioneers. With female drivers currently only one win shy of 100 in National events, they can thank Muldowney and her 18 wins for laying the foundation.