Column: Memorial Day's for war dead, not mattress sales or remembering Aunt Millie
Denise Williams | 5/23/2014, 1:08 p.m.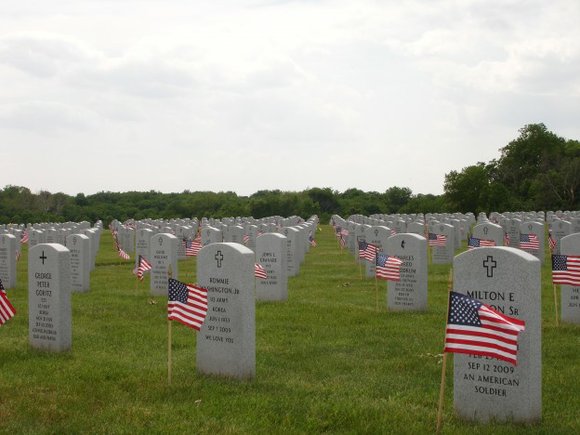 This guest column was written by Denise Williams, a Plainfield resident and Gold Star mother who writes a blog, "Uncommon Sense," for chicagonow.com.
Unless your aunt died in service to our country, Memorial Day is not about her. Or any of your other dearly departed. While it is always appropriate to honor our loved ones, remember them and even visit their final resting places, this is not the point of Memorial Day.
This one day of the year, we are all asked to stop and reflect on the sacrifices of those who have paid the ultimate price in service to our nation. During a time of war, one would think this is not something that needs to be explained. Sadly, it does.
"Memorial Day is Not National Mattress Sale Day" has become a one-liner. Most get the joke, but most still don't know either the history or the true meaning of the day. Part of that is because there are no definitive answers on how the day we now know came to be. Part of that is due to a darker and more insidious cause.
Memorial Day as we know it grew out of a practice held during and after the Civil War. Southern women decorated the graves of Confederate soldiers in honor of their sacrifice. At the time, they were buried pretty much where they died, which was often far from home. Those who lived near these battlefields and cemeteries where the war dead were buried took on the responsibility of caring for the graves of strangers. In doing so, they were honoring their own loved ones whose final resting places they would probably never see. The day was then called "Decoration Day".
After the Civil War, Gen. John Logan of the Grand Army of the Republic, the veterans organization of former Union soldiers, ordered flowers placed on the graves of both Union and Confederate soldiers at Arlington National Cemetery. This was the first official act of "Decoration Day" on May 30th, 1868. It was intended as an act of unification and healing as both sides were once again a single nation.
It wasn't until after WWI that May 30th became widely recognized as the day all those who died in war were to be honored, not just those who perished in the War Between The States, or as it was still being called in much of the South, The War of Northern Aggression.
In 1968, Congress passed the Uniform Monday Holiday Act which moved Memorial Day to the last Monday in May, though the first nationwide Monday Memorial Day didn't happen until 1971. Over the next few years, every state in the union adopted this schedule as the official holiday, thus creating the three-day Memorial Day weekend coast to coast.
Regardless of the history, Memorial Day is and has always been the one day of the year when we are to remember, honor and reflect upon those who have died in war. This is not about veterans, or even all who once served though it has become tradition to place a flag at every headstone in the hallowed ground of our National Cemeteries. It is not even about those who died while active duty, unless that duty was performed in a time of war.