Crystal Lawns principal surprised with village proclamation
5/29/2014, 10:30 a.m.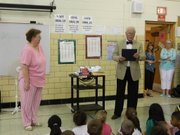 Crystal Lawns Elementary School Principal Kathy Baxter was surprised Wednesday when Plainfield Trustee James Racich presented her with a proclamation declaring May 28, 2014, as "Dr. Kathy Baxter Day" in Plainfield.
The honor was in recognition of Baxter's 40-year career at Crystal Lawns, where she taught 5th grade for 19 years and has been principal for the last 21. She will retire at the end of this school year.
Racich read the proclamation, issued by Plainfield Mayor Michael Collins, to Baxter and school students before presenting it to her.