Rialto setting stage to seek more Joliet funding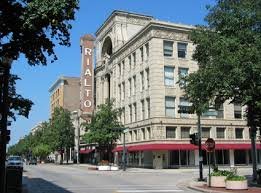 Low ticket sales and unexpected building repairs have put the Rialto Square Theatre into a "financial bind," forcing the nonprofit venue to take money from its endowment and to set the stage to seek more funding from the city of Joliet.
The situation was brought to light by Councilman Bob O'Dekirk at the Joliet City Council meeting Monday, the same day council members received a letter from Joliet City Center Partnership Executive Director Pam Owens urging them consider restoring its Rialto subsidy to its pre-recession level.
Rialto administrators tapped into what O'Dekirk described as "excess endowment money" generated by interest paid on the endowment. The $200,000 was divided, with $70,000 used to pay the fees for artists signed to do upcoming shows and $130,000 to cover operational costs, he said.
"I think (Rialto administrators) viewed it as an emergency situation and a drastic measure that they had to take," said O'Dekirk, the council's liaison to the Rialto. "They wanted the council to be informed."
Owens, contacted after the meeting, said her letter was meant to set the stage to encourage the council to reconsider how much it provides to the theater to keep it running given that its the hub around all of which downtown Joliet revolves.
The city of Joliet has always budgeted money to underwrite the cost of the Rialto, but the economic recession forced officials to scale back its contribution in 2010 from $700,000 to $600,000.
The Rialto has always been a sticking point for some city officials, who believe the theater should be a self-supporting entity rather than one that relies on city funding to stay afloat.
"How much is appropriate?" Mayor Tom Giarrante asked at the Monday meeting. "What percentage of their annual budget should we be supporting?"
Giarrante said he's told Rialto officials that he would not support any increase without seeing a financial audit that shows how the Rialto is spending the money they receive.
"Before we start doling out money, I want to see your financial report and see how you're spending your share," he said.
Councilwoman Jan Quillman echoed that point, saying the city was been forced to reduce its spending and hold off on pay raises for employees during the economic downturn but she's not sure the same's been true for the Rialto.
"It's a budget," Quillman said. "You live within your budget. ... I'm not ?? I think we really need to get a handle on what's happening over there."
O'Dekirk said he believed Owens' letter was in advance of a formal request from the Rialto to increase the city's subsidy in the 2015 budget, which will be approved in December.
When that happens, the issue will go to the city's finance committee, which will make a recommendation on the allotment given to the theater next year.
Owens said Rialto officials were caught off guard by a numbers of shows that didn't sell as well as had been anticipated. Among them, the traveling Broadway musical production of "Mamma Mia."