Plainfield East Spooked In Class 7A Halloween Loss
11/5/2014, 5:54 p.m.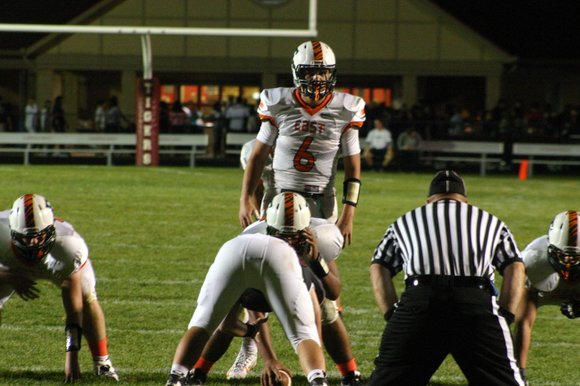 Plainfield East had a great season but for the second year in a row, drew a pretty tough Class 7A state football opening round opponent in the form of Catholic Blue traditional power St. Rita (7-3). On paper the Mustangs looked to be a strong favorite but despite their historical prowess, the Bengals played well when they weren't shooting themselves in the foot that is.
Both teams faced a colder than normal evening hampered by 30 mph winds and a lighter than normal turn out competing with the Halloween night festivities. Above all, the wind played a huge role in the games opening quarter with the Mustangs taking advantage of a 2-yard punt from the Bengals that caught a gust of wind head on and blew back 20 yards in mid air setting up Rita's first score, a C.J. Weydeman 7-yard run with 7:51 left in the first.
East (7-3), scored on their ensuing possession when tailback Jake Mayon (23 rushes for 136 yards) scored from a yard out to tie the game but that would be the closest the Bengals would get for the remainder.
The Bengals committed ten penalties on the night that resulted in negative 107 yards and struggled with their special teams play, both of which had a significant effect on the outcome of the game.
With the victory, St. Rita will host No. 1 Providence Catholic on Saturday while the Bengals will reflect on their best season to date and retool in the offseason to make another run in 2015.