New Aldi store in Joliet to open Nov. 20
11/10/2014, 4:11 p.m.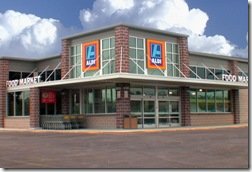 Joliet's new Aldi store on Jefferson Street opens at 9 a.m. Nov. 20, and the first 100 shoppers through the door will receive a gift certificate.
The food store is located at 2601 W. Jefferson St., in a new strip mall development that will also feature Potbelly sandwich shop, Chipotle Mexican Grill and Mooyah hamburger restaurant, all of which are still under construction.
In addition to the grand-opening celebration, the company is conducting an on-site sweepstakes in which the winner will receive a year's supply of produce.
Store hours are 9 a.m. to 9 p.m. Monday through Saturday and 9 a.m. to 7 p.m. Sunday.
With the opening of the new store, the Aldi store at 1820 W. Jefferson St. is closing.