Brown Chapel's new pastor's big ideas for the future
Madhu Mayer | 11/11/2014, 8:57 a.m.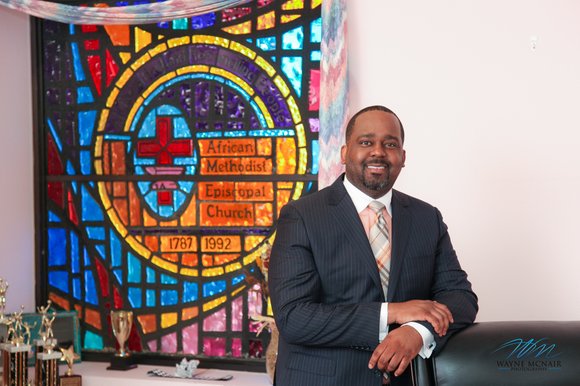 Though he is only 34 years old, Pastor Darius Curtis Thomas has learned life lessons that have made him mature enough to embrace history and look to the future as he takes the helm of Brown Chapel African Methodist Episcopal (AME) Church in Joliet.
Thomas replaces Pastor Dr. Lishers Mahone Jr., who was celebrated during a retirement ceremony in his honor in September after serving as pastor of the church at 1502 E. Mills Road in Joliet for 33 years. Thomas, just like Mahone before him, recognizes the honor bestowed on him as head of a historic church system.
When Thomas was elected to fill the vacancy at the Joliet house of worship by the AME Church's bishops, several familiar faces were waiting to welcome him as he is longtime friends with Sandy Carter and his wife, the Rev. Theresa Carter, of Brown Chapel.
Carter, who serves on the Steward Board of the Joliet church, said he has known Thomas since he was around 15 years old in Chicago.
"He comes with good lineage," said Carter. "He is doing a great job and he is well educated."
It is overcoming obstacles at a young age that forged Thomas to enter the ministry.
"In 1994, my mom became ill," said the young man who grew up in Chicago. "I prayed because the doctors said she would die after suffering a massive stroke. The doctors gave up hope, but God answered my prayers. I took that as a sign for me and it compelled me to surrender myself to God."
Today, his mother, who is in her 60s, is doing well and has no residual effects from the stroke.
Prior to taking over pastoral duties at Brown Chapel on Oct. 12, Thomas worked for 11 years at the Greater Allen AME Cathedral in Jamaica, Queens, New York, pastored by the Rev. Dr. Floyd Flake, who also was a member of the U.S. House of Representatives from 1986 to 1997.
Thomas said Flake left a positive mark on his career and outlook on life.
"I met Dr. Flake at Wilberforce University in Wilberforce, Ohio, when I was a student representative to the board of trustees and he was the alumni representative," recalled Thomas. After Thomas graduated with a bachelor of arts degree in political science, the young man was offered the opportunity of a lifetime.
"He was impressed with me and he offered me the job to serve as youth pastor at Greater Allen AME Cathedral," Thomas said. While serving in this capacity, he had oversight of 1,200 youths and 33 ministries and programs. In 2008, Thomas was elevated to minister of discipleship and membership. Some of his responsibilities included management of the 24,000 members, ministerial training courses, development and oversight of the new members and discipleship courses, prison ministry and some pastoral counseling sessions.
So when the bishops told him his next assignment would be in a Chicago suburb, Thomas jumped at the chance to come home.
"Brown Chapel is the second oldest black congregation in Will County," said Thomas. "It has amazing people. We want to grow not just numerically, but spiritually. I eventually want to build an educational center here."
Since he went to Yale University on an academic scholarship, Thomas recognizes the value of education.
"I believe education is the way we improve our reality," he added. "I want to pay it forward."
But Thomas, who is pursuing a master of divinity degree at Yale Divinity School in Connecticut, does recognize that he has big shoes to fill, considering the legacy of his predecessor.
"He did amazing things with the congregation," said Thomas. "But we have different leadership, preaching and teaching styles. Plus, I am adjusting to different regions. Queens is very urban, whereas Joliet is rural."
But Thomas said he can't wait to continue the tradition of Mahone by ministering the spiritual needs of the 150 or so members at Brown Chapel, which is predominantly African-American, though there are some Hispanic and Caucasian worshippers. Sunday worship services are at 10 a.m.
"I am looking forward to not just serving Brown Chapel, but the good people of Will County and Joliet."