Illinois State Tops Lewis Men's Basketball 76-67
11/12/2014, 5:35 p.m.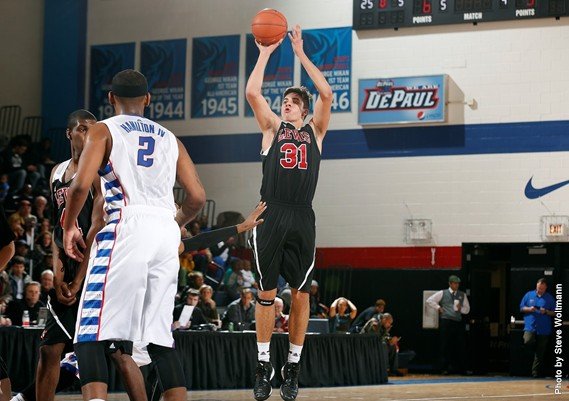 The Lewis University men's basketball team can point to their free throw shooting and rebounding as key factors in their 76-67 loss to Illinois State in the Flyers' exhibition finale at Redbird Arena on Monday (Nov. 10) night.
The Flyers, after all, shot 17.6% (3-for-17) from the free throw line and were outrebounded by Illinois State, 53-26.
Those numbers alone would typically indicate that the game was out of reach, but Lewis freshman swing man Max Strus was not going to let the Flyers go down easily.
Strus scored a game-high 30 points on 11-for-16 shooting, including draining 7-of-10 three-pointers; and added five steals for good measure. Lewis senior guard Ryan Jackson had nine points, six assists and zero turnovers, while senior guard Gabe Williams came off of the bench to score nine for the Flyers.
"I like the way we competed tonight," Lewis head men's basketball coach Scott Trost said. "I thought Max (Strus) was phenomenal, but we have to keep working and keep getting better.,
"We did a lot of good things (tonight) and there's a lot to be excited about."
Illinois State junior guard Devaughn Akoon-Purcell collected a team-high 16 points to lead the Redbirds in scoring, followed by 14 points from sophomore guard Paris Lee and 13 points from senior guard Daishon Knight. Redbird sophomore center Reggie Lynch posted a double-double of 10 points, 12 rebounds and added seven blocks in the victory.
Lewis opens the 2014-15 regular-season on Friday (Nov. 14), as the Flyers host Northern Michigan at 8 PM as a part of the GLIAC/GLVC Challenge at Neil Carey Arena.