Local companies make Tollway list of 'Super Scofflaws'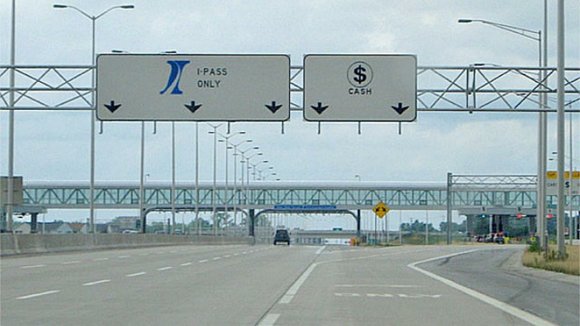 Four local companies have made the Illinois Tollway Authority's list of the state's most notorious toll "Super Scofflaws," with one ranked as high as No. 6 for the nearly $260,000 debt its accrued.
The list is issued annually as a way of shaming people and companies into paying the money they owe from going through I-Pass lanes without a transponder, which draws down tolls automatically from accounts set up by users.
Tolls are the fees charged to use the state-owned expressways, and are used to maintain and expand the 286-mile road system. The most recent extension linked Interstate 355 to Interstate 80 a few years ago.
The worst offender in the state right now is MMM Trans Inc. of Wheeling, which has managed to accrue $898,748 in tolls and fines, officials said. Overall, violators owe a total of $8.75 million, which is up by $3.7 million from last year.
In our area, the worst-offender honor goes to Elite Cartage and Intermodal, 490 Woodcreek Drive, which does container drayage and storage. Their debt may not be nearing the million-dollar mark, but it's exceeded a quarter-million at $259,345.45.
That's a lot of fines and tolls, given that the toll for cars is 95 cents at the Boughton Road exit and for trucks runs from $1 to $4, depending on the vehicle's size and whether it's going through during the day or at night.
Also on the list of 283 scofflaws from our area are:
No. 77 -- Best Way Logistics 1 Inc., Bolingbrook, $23,099.
No. 115 – ARC Roofing & Construction, Romeoville, $13,107.
No. 241 – Strait Line Decorating, Homer Glen, $2,634.
Violators have a seven-day grace period to pay online or by check. Failing that, they are fined $20 plus the cost of the toll for the first 60 days after the offense occurs, and then the penalty escalates to $50, according to the Tollway Web site.
After that, licenses start getting suspended and the case is turned over to a collection agency, which makes four attempts to reach the debtor before sending the case on the court, where a judge can order wages to be garnered, assets seized and other penalties be assessed.
Tolls make up almost all of the revenue needed to fund the agency's $1.16 billion budget, so cracking down on people who go through without paying is imperative, officials say. The agency receives no state or federal funds.
The Illinois Tollway System opened in 1958, and now oversees four tollways in 12 counties in northern Illinois – Veterans Memorial/Interstate 355, Tri-State/Interstate 94/294, Ronald Reagan Memorial/Interstate 88 and Jane Addams Memorial/Interstate 90/39/51.
Contact Karen Sorensen at Karen@TheTimesWeekly.com.