Don't set house on fire on Thanksgiving, Silver Cross warns
11/14/2014, 1:58 p.m.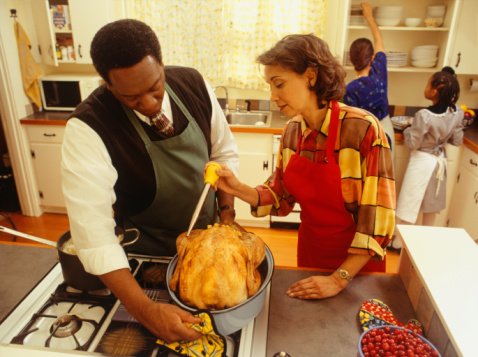 Thanksgiving is a holiday that awakes our senses - from the brisk autumn wind that blows against our faces as we pass through the doorway of our loved ones home to the herb-filled turkey aroma that engulfs the entire dwelling.

Unfortunately, many families end up smelling smoke and burnt cinders since Thanksgiving is the leading day of the year for home fires according to the National Fire Protection Association (NFPA). Silver Cross Hospital offers safety tips and what to do in case an accident occurs.
"For a superficial burn, cool the area by running it under cold water until the heat eases and then loosely cover the burn with a sterile dressing," explains Dr. Heather Taras, emergency medicine physician at the Silver Cross Free-Standing Emergency Care Center located at 143rd St. and Bell Rd in Homer Glen.
"And for more severe burns, get to an Emergency Room immediately to seek the correct burn treatment to avoid infection and scarring."
Safety Tips for Thanksgiving Chefs
The American Red Cross suggests the following safety steps to use while preparing the Thanksgiving feast:
The cooks should start by not wearing loose clothing or dangling sleeves while cooking.
Never leave cooking food unattended – stay in the kitchen when frying, grilling or broiling food. If someone must leave the kitchen for even a short period of time, they should turn off the stove.
Check food regularly while cooking and remain in the home while cooking. Use a timer as a reminder that the stove or oven is on.
Keep the kids away from the cooking area. Enforce a "kid-free zone" and make them stay at least three feet away from the stove.
Keep anything that can catch fire - pot holders, oven mitts, wooden utensils, paper or plastic bags, food packaging, and towels or curtains—away from the stove, oven or any other appliance in the kitchen that generates heat.
Clean cooking surfaces on a regular basis to prevent grease buildup.
Purchase a fire extinguisher to keep in the kitchen. Contact the local fire department to take training on the proper use of extinguishers.
Always check the kitchen before going to bed or leaving the home to make sure all stoves, ovens, and small appliances are turned off.
Install a smoke alarm near the kitchen, on each level of the home, near sleeping areas, and inside and outside bedrooms. Use the test button to check it each month.