Bolingbrook Miscues End Season
11/18/2014, 10:23 a.m.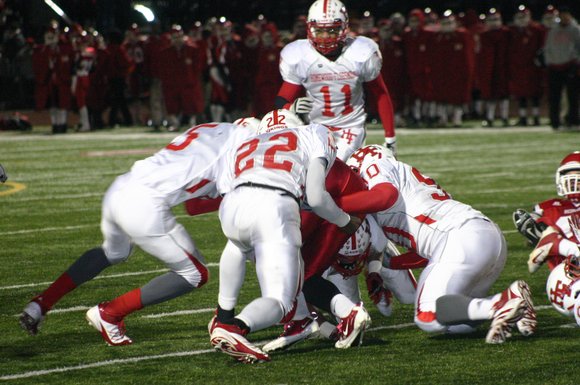 The Bolingbrook Raiders saw their season come to an end Saturday night after Homewood-Flossmoor took advantage of Raider mistakes that included a pair of safeties and key interceptions that gave the Vikings ample opportunity to cruise past Bolingbrook 25-13 and set their sights on Simeon for the IHSA Class 8A Semifinal game this week.
Bolingbrook (8-4) managed to put a pair of scoring drives together in the game but also put themselves in harms way handing the Vikings (10-2) excellent field position and H-F took advantage of nearly every miscue handed them scoring 18 points off of turnovers.
For the Raiders the season may not have ended with a state championship but it could hardly be viewed as a failure. It should be noted that all three teams they suffered losses two played in week 11 and two conference foes played in Quarterfinal games in Lincoln Way East and H-F. Despite the loss, there will likely be a strong recruiting class coming out of the Raiders this season which will be announced with their signing day in a few weeks.