Plainfield demolition rules adjusted to provide fair timetable
Brock A. Stein | 11/18/2014, 2:56 p.m.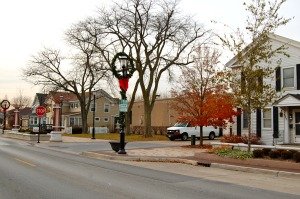 Plainfield trustees passed changes Monday to rules governing building demolitions in the village.
The adjustments are an attempt to balance the village's ongoing attempts to preserve historically significant buildings with the needs of property owners to have their requests expedited in a timely manner.
Under the new rules, applications will be expedited for buildings that are not 50 years old or shown to be historically significant under the new rules.
Those buildings deemed historical will have a hearing scheduled before the village's Historic Preservation Commission within a 30-day time frame.
Also under the new language, the village board will have the final say on granting a permit to raze a structure and will also have the power to delay for 90 days to find a workable alternative to demolition. After the 90-day delay, barring an alternate plan, the village will be required to grant the demolition permit.
Holders of a permit will have the ability to transfer it to a third party, providing that the plan for the site remains unchanged, said Village Planner Michael Garrigan, who described the rules as "streamlining" the application process.
Trustee Garrett Peck, who said he was initially opposed to the changes, supported the amendments when they were initially discussed in September, citing feedback from local Realtors and members of the Historic Preservation Commission.
"The way it's proposed, I think it's fair to all," Peck said.
In other business, trustees also approved an annexation agreement that will bring a Will County property at 12315 S. Rhea Drive into the village limits. The annexed site will serve as the location for Goldfish Swim School.
The indoor swim facility will offer swim lessons for children ranging in age from 4 months to 13 years old. School owners have agreed to pay all tap-on fees needed for the annexation and rezoning of the property, Garrigan said.
Contact Brock A. Stein at brocknewstips@gmail.com and on Twitter at @BrockAStein.