Electronics recycling in trouble; county pushes for manufacturers to pay more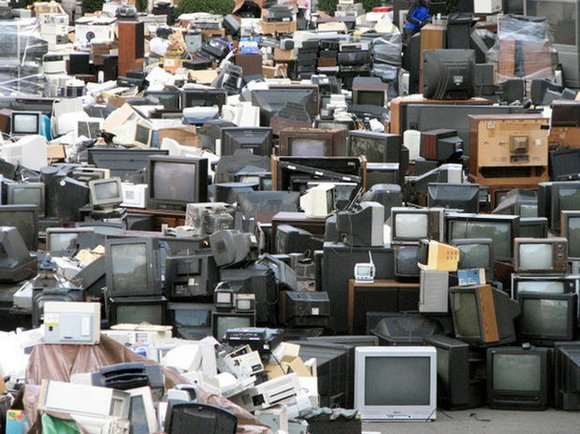 Anyone who has ever lugged an old television or bulky desktop computer to the garage to make room for a shiny new model knows exactly how heavy those seen-better-days electronics can be.
What's not widely known is the manufacturer of your new TV or laptop is mandated by law to pay recyclers to dispose of the old stuff you get rid of, said Marta Keane, Will County's recycling program specialist.
If that sounds like a good deal for consumers and the environment, there's one serious snag. The Illinois Electronics Products Recycling and Reuse Act mandates the manufacturer pay only 50 percent of the recycling cost based on the total weight of items sold two years earlier, an amount that is far less than the weight of items being thrown away.
It's not providing enough money to recycle all of the heavy, lead-filled items coming in, Keane said, and as a result, recycling companies – such as the one that handled DuPage County's used electronics – are starting to close because they can't make enough to sustain their businesses.
"(Recyclers) can't do it anymore," said Dean Olson, resource recovery and energy director for Will County's Land Use Department. "They're closing or they're laying off people. Jobs have been lost already."
Olson and Keane were in Springfield this week in support of House Bill 4042, drafted by state Rep. Emily McAsey (D-Lockport), which would increase the amount manufacturers pay toward recycling costs. Ideally, the amount would be 100 percent, they said, but 80 percent would be enough to keep programs going until a formal evaluation of the law's effectiveness is done in 2016.
It would also allow CRT/TV glass, also known as cathode ray tubes, to be temporarily stockpiled in an Illinois landfill until money to recycle it becomes available.
"It's a Band-Aid that will temporarily fix the problem," Keane said.
Without it, Will County and local municipalities will be stuck finding other, more expensive ways to get rid of electronics without help from manufacturers because residents will have no legal alternative to get rid of their used equipment, Olson said.
"If electronics programs cannot continue, it is very likely that widespread open dumping will then occur, as it has in those areas that have already lost their recycling programs," Olson wrote in a news release on the situation.
"Local governments and taxpayers then will be paying millions of dollars collectively to get rid of electronics. This begs the question: Why should Illinois taxpayers pay millions again (they already paid manufacturers when they bought the item) to get rid of their electronics?"
The hope is to get the legislation passed in the upcoming veto session, in part because lame duck legislators may be more likely to vote for it than newly elected legislators sworn in when the new term begins in January.
But it's also a matter of timing, Olson said. If the bill isn't approved until the spring session, it likely won't go into effect until mid-year or later, creating a time gap in which more recyclers may go out of business, he said.
If there is any good news, it's that environmental experts expect the vast majority of televisions and computers that contain heavy lead glass will be through the recycling system within the next five to seven years, Keane said. Those old box TV sets and huge computer processors will be replaced by lighter, more environmentally safe equipment and the need to recycle millions of used appliances will start to dwindle, she said.
"It's a short-term problem, but one that needs to be addressed," Keane said.
Contact Karen Sorensen at Karen@TheTimesWeekly.com.