Goodman A Christmas Carol: Simply Wow!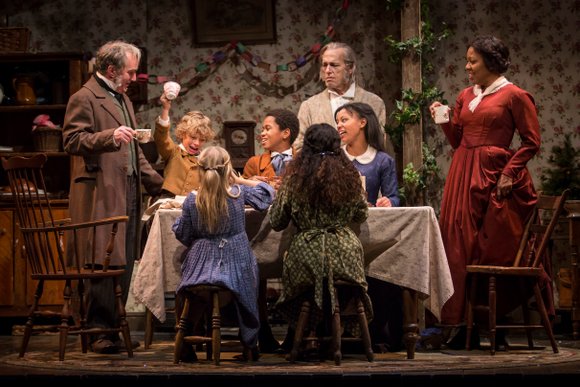 I was the newbie, probably the only adult in Goodman's Albert Theatre who had never seen Dicken's A Christmas Carol. Perhaps the only one of any age: from their laughter and excitement, it seemed that most of the kids as well as their parents knew the story, the characters, what to expect and where the laughs were.
In this production, director Henry Wishcamper combines new magic–explosions, stars and glitter, flying angels and more–with familiar moments in a magical, WOW! making production. Nearly four generations of children have been introduced to live theater via Tom Creamer's adaptation of Dicken's beloved tale. More than 1.2 million attendees have been charmed and somewhat transformed with Scrooge as one Christmas Eve night when he changes from the meanest, most miserly man in London to the nicest, most loving and most generous.

Lavish costumes, inventive sets and wonderful, creative lighting provide the backdrop for Larry Yando (Ebenezer Scrooge) and an all-Chicago, thoroughly-integrated, totally terrific cast (Goodman Theatre of Chicago is recognized nationally as one of the pioneers of color-blind casting).
All manner of delights, from the tech-delicious flying Ghost of Christmas Past (Patrick Andrews) to the simple love of the Cratchit family, fill the two-act, one-intermission show. Tiny Tim's timeless blessing to all, "God bless us, everyone", sends the audience home in the happiest of moods.
A Christman Carol, which runs through December 28, is dedicated to Robert Christen (1949-2014), the Resident Lighting Designer who was the only artist to work on all previous 36 productions. Some tickets are as low as $10.