The Best Brined Turkey
11/26/2014, 2:01 a.m.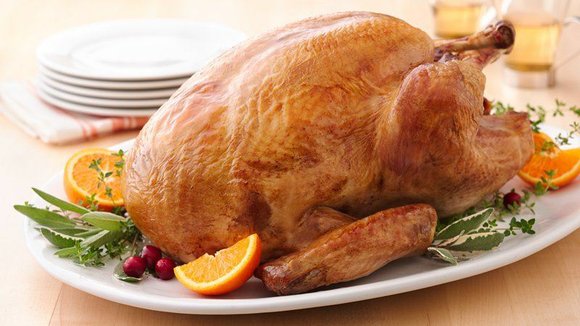 Servings: 8
Ingredients
20 cups water (5 quarts)
1 cup sugar
1 cup salt (preferably kosher)
1 turkey (10-12 lb), defrosted if frozen
4 cloves
4 bay leaves
1 tablespoon vegetable or canola oil
Directions
In a large stockpot, heat 4 cups of water; sdd sugar and salt. Stir until dissolved. Add 16 cups cold water, cloves and bay leaves (2 cups of ice can be added to make sure water is cold). Stir to combine.

Urwrap turkey; wash the turkey inside and out. Place breast side down in the stockpot with brine; water will just cover the turkey. Refrigerate 18-24 hours.

Preheat the oven to 450°F. Take the turkey out of the stock pot; rinse the inside and out with cold water discarding brine. Place the turkey on a roasting rack inside a wide low pan, blotting the turkey with a paper towel. Tuck back the wings and rub the skin of the turkey with the oil. Place a piece of foil just over the breast of the turkey to cover for even roasting. Roast on the lowest rack of the oven for 30 minutes.

Reduce oven temperature to 350°F. Pour 1 cup of water into the pan and continue to roast for an additional hour.
Remove the foil from the breast and cook another 15-30 minutes. Insert ovenproof meat thermometer so tip is iin thickest part of inside thigh and does not touch bone. Roast until thermometer reads 165°F and drumsticks move easily when lifted or twisted.

Let the turkey rest for 20-30 minutes (this is an essential step to allow the juices to redistribute and settle). Serve.