50th Chicago International Film Festival to open
Oct. 9 Festival Opener Stars Jessica Chastain and Colin Farrell
10/1/2014, 2:46 p.m.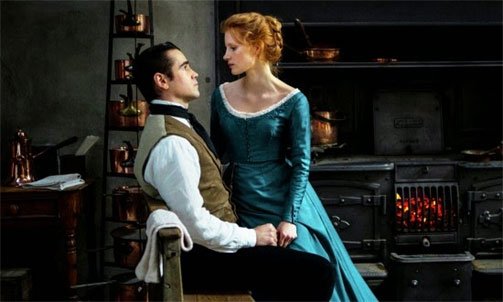 The 50th Chicago International Film Festival (October 9- 23, 2014) announces the selection of "Miss Julie," directed by veteran actress and Ingmar Bergman collaborator Liv Ullmann and starring Golden Globe®-award winning actors Jessica Chastain, Colin Farrell and Samantha Morton as its Opening Night film. "Miss Julie" will screen October 9 at the Harris Theater (205 E. Randolph Dr.). The red carpet event starts at 6 p.m. Director Liv Ullmann is scheduled to attend.
Based on August Strindberg's 1888 groundbreaking naturalistic drama, "Miss Julie" takes place over the course of one midsummer night in an Irish country estate, as the haughty Miss Julie (Jessica Chastain) and her father's lowly valet John (Colin Farrell) charm and manipulate each other. By turns seductive and bullying, savage and tender, their intimate relationship leads to a desperate plan, culminating in a final act as sublime and devastating as anything in Greek tragedy. Ullmann brings renewed vitality to August Strindberg's classic play of power, class and seduction.
"Since her extraordinary directorial debut, 'Sofie,' in 1992, we have premiered each and every one of Liv's directorial efforts," said Chicago International Film Festival Founder and Artistic Director Michael Kutza. "I have long admired her work as an actress, but 'Sofie' was a complete revelation. With 'Miss Julie,' she gives new life to a classic. It's a highly-charged, very erotic movie full of powerhouse performances."
Honored at the 33rd Chicago International Film Festival with a Career Achievement Award, Liv Ullmann is, by far, the most internationally recognized, respected and famous Norwegian actress. She made her acting debut on the stage as Anne Frank at the regional theater Rogaland Teater in 1957. Ullmann has been nominated for an Academy Award® for Best Actress in a Leading Role twice (1973 and 1977), and has received more than 40 other awards and accolades. She was widely acclaimed for her roles in Ingmar Bergman's films, which also opened the doors for her international career. Since her award-winning Swedish production
"Sofie," she has also directed "Kristin Lavransdatter" (1995); "Private Confessions" (1996), winner of the Chicago International Film Festival's Silver Hugo for Best Actress; "Faithless" (2000); and the documentary "Lumière and Company" (1995).
Opening Night Ticket Information
Tickets for Opening Night of the 50th Chicago International Film Festival are on sale now and can be purchased online at the Festival Store: www.chicagofilmfestival.com, by calling the Festival Hotline (312-332-3456), or in-person at the Festival Office (30 E. Adams, Suite 800). Film-only tickets are: Balcony: $50 ($45/members); Main Floor: $60 ($55/members). Cinema/Chicago members can use promo code OPEN50 and their current membership number for special rates. VIP tickets, which include a premium main floor seat and admission to the after party at Sidney Yates Gallery at The Chicago Cultural Center (77 E. Randolph St.), are priced at $150 per ticket. For ticketing information and Box Office hours,
visit www.chicagofilmfestival.com
Other Festival screenings will be held at the AMC River East 21 Theater (322 E. Illinois St.). For Ticketing and Pass information, visit www.chicagofilmfestival.com