Brown's Chapel pastor retires after 33 years
Madhu Mayer | 10/1/2014, 2:34 p.m.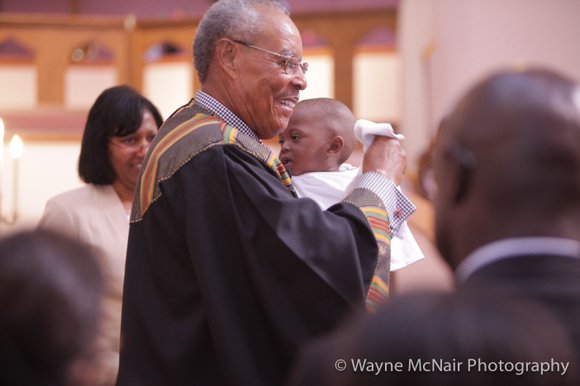 He has been witness to discrimination and watched the country elect its first African-American president, but a Joliet pastor says no matter how far you come in life, there still is more to be done.
On this past Saturday in Joliet, Pastor Lishers Mahone Jr. celebrated during a retirement ceremony in his honor after serving as Pastor of Brown Chapel African Methodist Episcopal (AME) Church at 1502 E. Mills Road in Joliet for 33 years. Prior to his appointment in Joliet, Pastor Mahone was pastor for 12 years at Turner Memorial AME Church in Chicago.
Unlike other houses of worship, Mahone, a Joliet resident, said people of African descent established AME churches.
Mahone said the chapel's services consist of worship through Gospel music and sound teaching of the Word of God, which applies to daily life. He said the stained-glass window represents the founder of the African Methodist Episcopal Church, Richard Allen, who led the first independent black denomination in the United States in 1816.
The African Methodist Episcopal Church is unique in that it is the first major religious denomination in the western world that had its origin over sociological and theological beliefs and differences. It rejected the negative theological interpretations, which rendered persons of African descent second-class citizens. Theirs was a theological declaration that God is God all the time and for every body. The church was born in protest against slavery, against dehumanization of African people, brought to the American continent as labor.
The mission of the African Methodist Episcopal Church is to minister to the spiritual, intellectual, physical, emotional and environmental needs of all people by spreading Christ's liberating gospel through word and deed.
Mahone said the 200 members or so at Brown Chapel are predominantly African-American, though there are some Hispanic and Caucasian worshippers.
"At our peak, we had about 400 members," said the 75-year-old pastor, explaining many of the members have since relocated to the Southern states like Florida, Alabama and Georgia.
Regardless of where they worship, Mahone, who will officially retire on Oct. 12, said it is important to remember there are greater fights beyond an individual's personal challenges.
"I am involved in the fight against HIV and AIDS," he said. "We are involved in educating our people and work in conjunction with Regional Care Association (a not-for-profit agency in Joliet that provides care to patients infected with the disease)."
The recent outbreak of the Ebola virus is also another concern for Mahone.
"People need to realize how dangerous it is," he reflected.
While his replacement won't be appointed until a conference in October, Mahone hopes the congregation will always remember what he has taught them for more than three decades.
"I have seen the appearance of equal opportunity and realized it is not as equal as they pretend it is," said the father of three and grandfather of four. "I have seen people who have achieved and gone from a ghetto mentality to become nurses and doctors. We have had outstanding people who have achieved greatness."
But overcoming labels placed on a person's ethnicity remains a challenge, he said.
"I encourage people to use the gifts they have been blessed with and to achieve greatness," said Mahone, who will focus on hobbies such as fishing and gardening upon retirement. "I tell everyone to aim at reaching that goal through Christ, who will give you the strength."
Mahone, who celebrated 39 years of marriage to wife, Betty, on June 28, recognizes that there will be a void in his routine once he retires.
"I have not felt it yet as I have been accustomed to being busy," he said.
But don't expect Mahone to sail off into the sunset. He still plans to be involved in the community and encourages people to attend Sunday services at 10 a.m. and Bible study at 6 p.m. Wednesdays at Brown Chapel.
"I am concerned about our young students and encourage them to stay in school, graduate and contribute to society," he said. "That is the only way we can change for the better."