Saints Sweep Purdue Improve to 4-0 in Conference
10/1/2014, 9:13 a.m.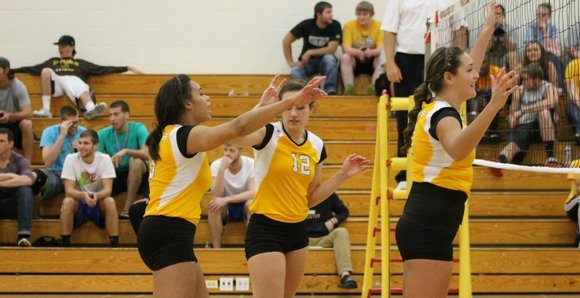 Remaining undefeated in conference play, the University of St. Francis volleyball team defeated Purdue University North Central 25-10, 25-15, 25-4 in Chicagoland Collegiate Athletic Conference action Thursday night at the Sullivan Center.
With the victory, St. Francis (12-10) improved to 4-0 in CCAC play to move into a tie with Trinity Christian College for the top spot in the South Division.
Sophomore Alyssa Bridleman, who entered the contest leading the CCAC in hitting percentage, clubbed 10 kills at a .571 rate and collected three blocks on the night. Freshman Tricia Graham finished with four blocks, and senior Paige Reinert (Bolingbrook, Ill./ Bolingbrook) added three. Junior Shelby Kupferschmid led USF with 18 digs.
Several players made key contributions off the bench, including freshman Shaniya Falkner with five kills in seven attempts and freshman Allison Bowbin (Bolingbrook, Ill./ Plainfield East), who served 11 consecutive points in the third set.
USF's victory was its 37th in its last 41 CCAC regular-season matches and its 14th in 15th home conference contests during that span. The Saints defeated Purdue North Central for the ninth time in as many meetings.